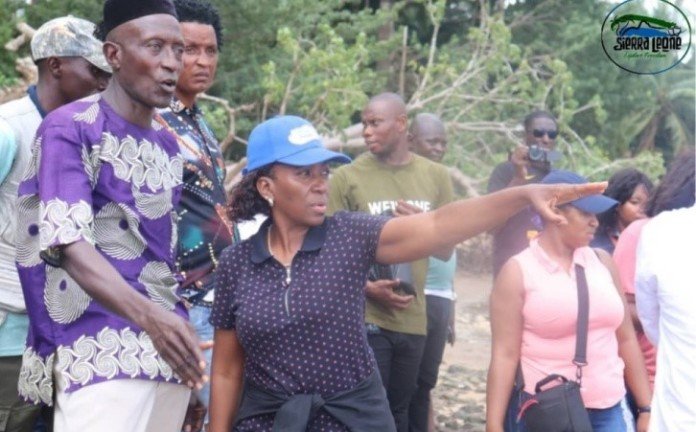 The Minister of Tourism and Cultural Affairs, Nabeela Tunis, on the 9th September,2023 led a delegation, accompanied by Deputy Minister Kadijatu Grace Kamara, the Ministry's Cultural Directorate, the Monument and Relics Commission, and Tour Operators, on a visit to Rotumba village in Koya Chiefdom.
During the visit, they conducted an inspection of the Portuguese Slave Fort and erected a plaque to preserve the historical relics.
Rotumba is known to be a Portuguese Slave Fort constructed in the 15th Century, situated on the banks of the Sierra Leone River, opposite Bunce Island. The site stands as a testament to the historical ties between the Portuguese and the British on Bunce Island.
Before commencing their tour of the relics, the Minister and her team paid their respects and offered greetings to the Chief of Rotumba village, Pa. Alimamy Brima II. On behalf of the Paramount Chief, he warmly welcomed the delegation and expressed his delight at the Ministry's visit, viewing it as a developmental initiative for their village. He pledged his and the chiefdom's full support to ensure the preservation of the historical relics, which he believed would bring benefits to the community.
In her address to the Chief and the stakeholders of Rotumba, Madam Nabeela Tunis expressed gratitude for the warm welcome extended to them. She explained that the purpose of their visit was to confirm the existence of the Portuguese Slave Fort, mark it for preservation, and raise awareness within the community about the significance of their historical heritage and the importance of its protection.
The Minister emphasized that the placement of a plaque signified the identification of the relics and their commitment to preserving them under the Ministry of Tourism and Cultural Affairs. She praised the community for safeguarding these relics, stating that their preservation would have a substantial economic impact on the lives and livelihoods of the village once the fort preservation project comes to fruition. She clarified that the project aimed not to dispossess the community of its land but to benefit them by opening the village to tourists and developing the community with necessary amenities.
During the guided tour of the historical site, Foday Jalloh, the Director of Culture, provided insights into the significance and historical importance of the Portuguese Slave Fort and the first Episcopal Church built in 1926. He emphasized that the fort holds great potential for colonial and slave tourism, suggesting the establishment of eco-lodges and the creation of a heritage tourism link between Bunce Island and the surrounding rivers in the estuary