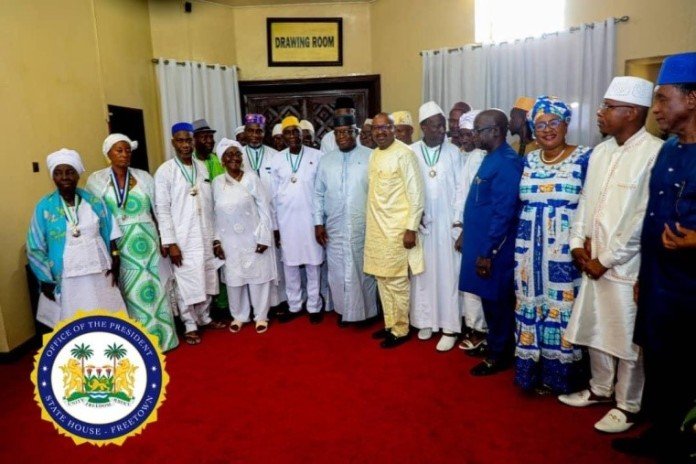 Sixteen Tribal Heads drawn from the Western Area Rural and Urban, on the 30th June, 2023 ,  congratulated His Excellency President Dr Julius Maada Bio and his Vice President, Dr Mohamed Juldeh Jalloh at State House on their re-election further expressing hope for the successful outcome of their agenda.
Chairman of the Council of Tribal Heads in the Western Area, Sahr Orlando Gbekie, said they were happy to meet and congratulate the President and his Vice, noting that their re-election did not come as a surprise to them because they really campaigned all over the country.
He expressed hope that the President and his Government would continue to do a lot more positive things and thanked him for adding respectability to their authorities in their different localities.
" His Excellency, it was during your first term in office that we had our dignity restored. Your Government made sure all of us were paid monthly wages, much more consistent than the stipends we received as local leaders before your coming to power. Also, thanks to your foresight, we are proud to have a representative at the city council," he said.
He paid tribute to the establishment of the Independent Commission for Peace and National Cohesion, which he said they were happy to have worked with since its establishment further pledging the support of tribal heads to the agenda of the Government, adding that they would serve as agents of peace in their different localities.
President Bio, in his statement, welcomed the tribal heads and stated that he was happy that they came to congratulate him further reminding them that the elections were over and that he was now focused on bringing development to the country and its people.
He called on the tribal heads to ensure peace reigns in their localities while admonishing them to be proactive in settling disputes so as to sustain the peace and build on the long history of communal harmony.
President Bio also noted that as a Government they were doing their own part to enforce the rule of law in order to keep the peace, notwithstanding the challenges including the difference in social and political orientations.
He assured them that he would continue to fly the country's flag higher internationally because of the efforts he had made to showcase the positive sides of the country, noting that that had led to the overwhelming support from other countries when Sierra Leone won as a non-permanent member of the UN Security Council.