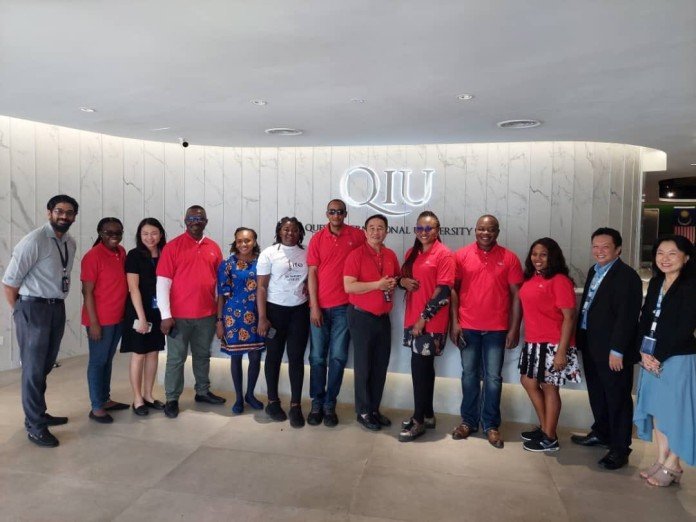 By Amin Kef Sesay
Quest International University (QIU), a private research-led institution in Perak, Malaysia, welcomed a delegation of journalists from Ghana, Nigeria, and Sierra Leone on Thursday, September 7, 2023. The University, established under the Higher Educational Institutions Act 555 and owned by the QI Group, currently hosts nearly 2,000 students from 28 countries on its campus.
The visiting journalists engaged in discussions and presentations with the University's management team, including COO Nicholas Goh; Deputy Chief Operating Officer, NG Mei Chan; Director University Relations, Pauline Lee; Senior Manager Digital Communications, Loghun Kumaran; Register Muhammad MG Omar, and Vice Chancellor Professor Zita Mohd Fahmi.
COO Nicholas Goh led the presentation, outlining the University's mission to become a globally recognized research institution delivering quality programs and interdisciplinary research of international standing. He highlighted the University's diverse course offerings, which range from Medicine & Surgery and Business Management to Environmental Technology and Special Needs Education.
Goh emphasized the University's commitment to providing quality education while maintaining affordability, facilitated by a team of experienced educators from Malaysia and abroad. He also noted the University's focus on producing well-rounded graduates equipped with the skills and confidence to succeed in a rapidly changing job market.
Research and innovation form the backbone of QIU, with projects focusing on sustainable construction materials, diabetes-related complications and increasing crop yield. Goh stressed the importance of students gaining first-hand knowledge of groundbreaking research by working alongside dedicated educators.
The COO also highlighted the University's commitment to social responsibility, with students actively participating in community service and volunteering for good causes. He cited examples of Pharmacy students providing care at homes for the elderly and medical undergraduates conducting free health screenings for the underprivileged.
Goh clarified that QIU, which currently has close to 2,000 students enrolled in 40 programs, does not have any branches in other countries and has never authorized anyone to collect money on its behalf. He warned against scammers exploiting prospective students and advised individuals to verify information through the University's official website.
The University's student body comprises 10% international students and 90% local students. The event concluded with a tour of the University's facilities and a question-and-answer session.