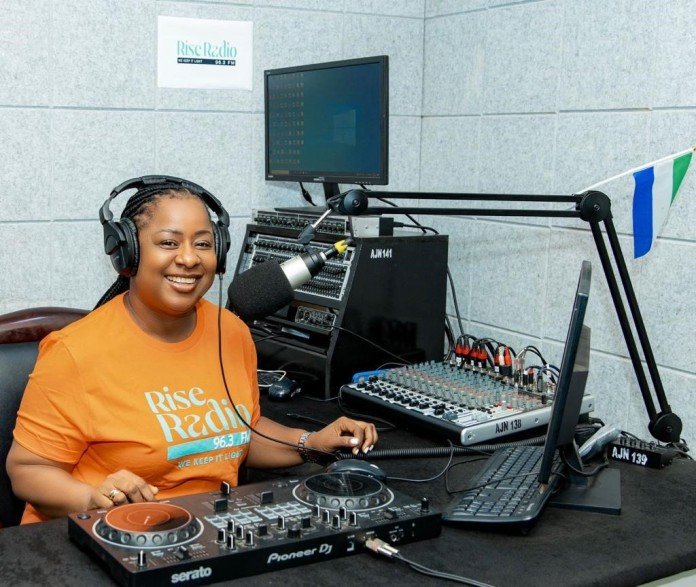 Amin Kef-Ranger
Renowned media personality, Asmaa James, has proudly announced the establishment of Rise Radio 96.3FM, a community service media organization which aims at providing a platform for women, girls, and young people to amplify their voices and address pressing issues.
It also seeks to promote human rights, foster a just and inclusive society, support democracy, advocate for progressive governance, and address climate change through radio broadcasts.
Rise Radio has quickly emerged as the "voice of many voices," offering an inclusive space for diverse groups to share their experiences, views, concerns and perspectives.
Asmaa James attributes her inspiring journey and the creation of Rise Radio to the incredible opportunity provided by the prestigious Young African Leaders Initiative (YALI), a part of the Mandela Washington Fellowship, initiated by former U.S. President Barack Obama.
She extends her heartfelt gratitude to former President Barack Obama, the United States Embassy in Sierra Leone, the U.S. State Department, the dedicated staff of the presidential precinct, the YALI network, and the Mandela Washington Fellowship for the life-changing experience.
Asmaa James, a proud 2016 YALI fellow, stands as a beacon of youth empowerment, determined to make a lasting impact on her community and beyond.
It could be recalled that in 2016, Asmaa James, a young and emerging leader from Sierra Leone, embarked on a transformative journey as she was selected to participate in the prestigious Young African Leaders Initiative (YALI), a part of the Mandela Washington Fellowship, initiated by former U.S. President Barack Obama.
Her journey through YALI was nothing short of extraordinary, involving six weeks of intensive academic and professional development. Asmaa had the privilege of being placed at the Presidential Precinct, an institution affiliated with two renowned American universities, William & Mary and the University of Virginia. During this period, she delved into leadership, community service, and civic engagement, gaining invaluable insights and experiences.
One of the highlights of Asmaa's YALI journey was a town hall meeting with former President Barack Obama himself. This remarkable encounter, which took place on August 3rd, 2016, left an indelible mark on her life. President Obama's impassioned words about the potential of Africa's youth resonated deeply with Asmaa. He emphasized that their talents were the future of their countries and encouraged them to believe in their potential.
Asmaa recalls President Obama's words, "Years from now, when you are running a big business or doing a great non-profit or leading your country as President or minister, my hope is that you can look back and keep drawing from the strength and experience that you've gotten here, and I hope you will remember those of us who believed in your potential."
Inspired by these words and fueled by her commitment to effect positive change, Asmaa has dedicated herself to addressing critical societal issues, particularly those affecting women and children.