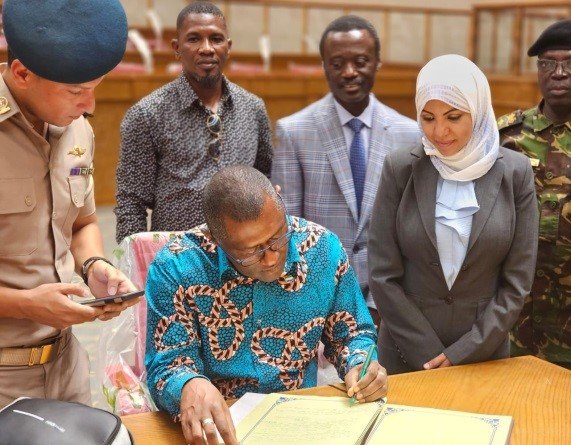 By Amin Kef Sesay
Deputy Minister of Defence (DMD), Colonel (Rtd) MB Massaquoi and his delegation arrived in Cairo on Sunday, September 3, 2023, on a mission to bolster defence diplomacy and military collaboration between the Republic of Sierra Leone Armed Forces (RSLAF) and the Egyptian Armed Forces.
The delegation was received in Cairo by His Excellency Ambassador Sidiq Silla, Sierra Leone's Ambassador to Egypt, and Major General Mohamed Mohamed Abdellah, Assistant Minister of Defence for Operations and head of the Egyptian delegation received the Deputy Minister and his entourage in Cairo.
During the conference, DMD Massaquoi highlighted the longstanding bilateral military cooperation between Egypt and Sierra Leone, dating back to the commissioning of two sets of Officer Cadets in 1972/1976. He further underscored how the purpose of the visit was to deepen that relationship and explore areas of cooperation aligned with Sierra Leone's national agenda, including agriculture, health, infrastructure, youth empowerment, human capital development, border security, and sustainable energy. The visit, which began on September 3rd, was concluded on September 7th, 2023.
A Memorandum of Understanding (MOU) was signed that paves the way for future engagement and cooperation and it encompassed various Government Ministries, Departments, and Agencies (MDAs) that will partner with the Ministry of Defence and RSLAF to benefit from the outcomes of the Cairo conference.
DMD Massaquoi expressed gratitude to the Egyptian hosts for extending the invitation and emphasized the readiness of the MoD/RSLAF to expand coordination and cooperation between the two countries in various military aspects. He assured his Egyptian counterparts of the Sierra Leonean Government's commitment to a bilateral agreement that will be mutually beneficial.
In response, Major General Mohamed Mohamed Abdellah expressed appreciation for Sierra Leone's positive response to the invitation and also highlighted the aim of the Joint Committee which, he said, is geared towards exchanging expertise and viewpoints in support of military cooperation, with an emphasis on future visions for both nations. He believed that the engagement would yield substantial regional benefits.
As part of the visit, the Sierra Leonean delegation was given a tour of the Egyptian arsenal to inspect various types of military equipment. The delegation included Brigadier General AB Conteh, Assistant Chief of Defence Staff, Training and Doctrine, Lieutenant Colonel Momoh Emmanuel Luseni-Esq, Staff Officer Grade 1, Directorate of Defence Legal Services, His Excellency Ambassador Sadiq Silla, Samuel Alie Kargbo, and Mona Zaghloul.
The Deputy Minister of Defence and his team are expected to return home at the end of the week, following what promises to be a historic signing of a Joint Military Cooperation and Memorandum of Understanding between the MoD/RSLAF and the Arab Republic of Egypt Armed Forces.