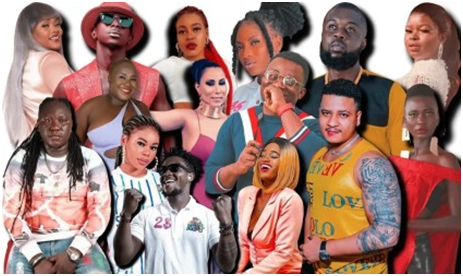 By Amin Kef-Ranger
Those shown the exit door on Sunday 5th June, 2022 were Edward Wright, Ina Elizabeth Cole, Daniel Sesay and Juliet Konya Sesay. For them it marked the end of what has been their amazing journey. With the eviction, notwithstanding, the #Yagba still continues for the Le 250 Million cash prize & a round trip to Dubai. Members of the public could  continue to watch the Yagba on AYV DStv Channel 399, AYV Channel 34, You Tube Channel in real-time 24/7.
Indeed, the House was very, very 'hot' on that unforgettable night as DJ Neptune from Nigeria rocked the Housemates Salone Party with his mix of both Salone and global hit songs really demonstrating that we live in a small global village and have to learn to work with others to build countries collectively.
Indisputably, Housemates is now a global platform on Dstv 399 and so AYV Media Empire and its lead partner, Africell-Sierra Leone, have a legal responsibility to provide contents for audiences both in Sierra Leone and across the world.
The two organizers of the Reality TV Show, AYV and Africell SL, are working with both international and national DJs like when the celebrated DJ Mose was invited and performed at the Pool Party.
AYV and Africell -SL are both putting Salone music out to the world and one of the best songs for that night was "Mammy Na Power" done by Zainab Sheriff.  The organizers have now made it a must to play Salone music on the Housemates Show and are supporting the national music playlist.
According to Ambassador Anthony Navo Jnr, the Chief Executive Officer of AYV Media Empire, "We may all have our differences, but that should not put us apart. Let us join our hands together to build a better entertainment environment in Sierra Leone and Africa at large".
In as much as there are now 18 Housemates in the House, who sometimes appear sexy by displaying some form of nudity, who again at times talk harshly because they are also expected to intermittently use strong language and be humorous, the  proper manifestation of those traits as often seen are really making the Reality TV Show very captivating and interesting to watch, providing some form of comic relief for viewers and serving as a therapy to reduce stresses.
Housemates Salone Season 3 is all about Youth Empowerment and is socially considered to be a Youth Empowerment platform which succeeded both Seasons 1 & 2.
As it has been realized, the boarding of twenty-two Housemates under one roof, for a specific length of time, giving them the opportunity to interact on a daily basis is somehow exposing the innate potentials the Housemates possess that, in the future, could be harnessed and tapped for productive ends.
They are perfecting assignments delegated to them by a sort of moderator who is controlling their moves and actions as well as grading them as and when the show is progressing.
Along the way they are learning new skills from their co competitors in the House, displaying coping mechanisms under various conditions and learning how to comport themselves when they find themselves in any public arena or gathering.
The Housemates are taught or learning by themselves how to prop up their self esteem, to be courteous, courageous and control their ego under stressful conditions. They are taught how to express themselves publicly, responding to questions, playing certain roles in real life situations.
Already, certain corporate institutions are using the platform not only to advertize but to also teach or school the Housemates and by extension the watching public what types of services they have to offer, how to go about performing certain tasks and anything else that has to do with empowering their minds geared towards cultivating positive mindsets.
The Reality TV Show is also exposing the Housemates to the outside world as it is viewed far and wide.
Talents are spotted and interested individuals may want to harness those talents to be used for the advancement of various human endeavours.
Indeed, the Housemates are presently "Yagba-ing" to up their games.
For now people are relaxing in their comfort zones and enjoying watching Reality TV Show per excellence.