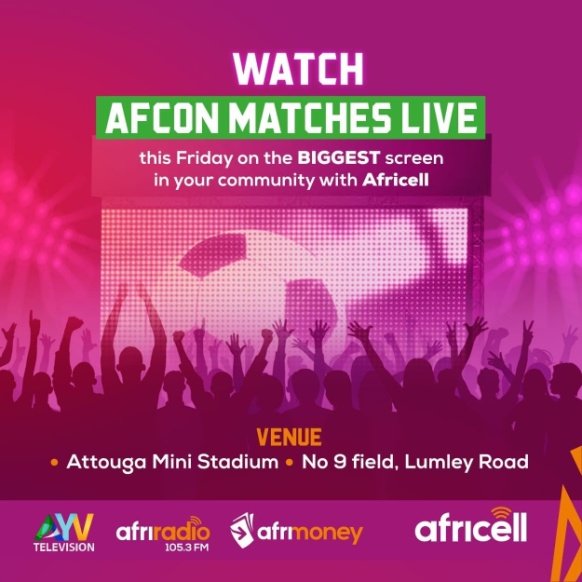 By Amin Kef Sesay
Considered as a telecommunications company that cares for its numerous subscribers regardless of status, wherever they reside and whatsoever, Africell-SL, has been extolled for always being there for them in thick or thin.
 Mindful of the fact that a sizable number of Sierra Leoneans are football loving fans and further by extension knowing full well that not all could afford to conveniently watch the ongoing AFCON 2021 that is currently underway in Cameroon, in which the country's darling Leone Stars is participating, at comfort zones, Africell-SL is successfully rolling out an initiative geared towards making it possible for its numerous customers and the general public to be watching the matches live, especially those in which Leone Stars is featured.
The telecommunications company is doing so by placing big screens at vantage positions in various communities in Freetown and other areas for members of the public to comfortably watch the matches. It started doing so on Tuesday 11th January 2022 and repeated same on Sunday, 16th January 2022.
In particular, the Management of the company brought joy to residents of the Wilberforce community, where the company's Head Office is located, on the 11 January 2022 when it availed residents to watch the live match between Leone Stars and its Algerian counterpart.
Such a move, which has been commended by many made it possible for them to watch the first encounter between Leone Stars and its Algerian counterpart live from Cameroon in a relaxed atmosphere.
According to the Media Manager of the company, John Konteh, the initiative rolled out forms part of ways that Africell is giving bringing people together and a way of giving back to the people of Sierra Leone furthering how it is a bonus by the company that took the onus of being the biggest sponsor of the national team, Leone Stars for the AFCON competition.
The Media Manager also underscored that the company sponsored six winners of the Africell AFCON promo by providing them air tickets together with giving them allowances, taking care of accommodation and transportation to watch the African Cup of Nations whilst in Cameroon.
He concluded that the placing of the free screens to watch the AFCON matches will be replicated in other communities targeting the Dwarzack and Fourah Bay communities as was done yesterday the 16th January 2022.