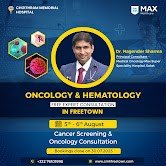 By Amin Kef (Ranger)
Choithram Memorial Hospital, in partnership with MAX Healthcare, India, is offering free expert consultation in Oncology/Hematology and Orthopaedics at their Freetown premises on August 5th and 6th, 2023. Cancer Screening & Oncology Consultation will be available for individuals facing various malignancies, while Orthopaedic Consultation will focus on joint problems and spine disorders.
Renowned specialists, Dr. Nagender Sharma and Dr. Akshay Kumar Saxena from MAX Super Specialty Hospital, will lead the free consultation sessions for Oncology & Hematology and Orthopaedics, respectively.
During the camp period, all consultations and treatments (if available at Choithram Memorial Hospital) will be completely free, providing accessible healthcare options closer to home. Max Healthcare, known for its excellence in healthcare services, will be supporting this initiative to address medical needs in challenging times.
Dr. Gowrinath M. George, Medical Superintendent of Choithram Memorial Hospital, highlighted the importance of bringing in specialized experts on a pro bono basis to cater for individuals who may not have the means to travel abroad for treatment. This effort aligns with Choithram's commitment to the Ministry of Health, Sierra Leone.
Harish Agnani, Chief Administrator of Choithram Group in the Country emphasized that from time to time Choithram Memorial Hospital tries to bring in experts to bridge the gap in service delivery as per the commitment made to Ministry of Health and Sanitation, Sierra Leone.
To secure a spot, interested individuals must register and book an appointment at Choithram Memorial Hospital before July 30th, 2023. Limited spaces are available, and bookings can be made by calling +232-76-541-331. Don't miss this opportunity for expert medical advice and treatment.