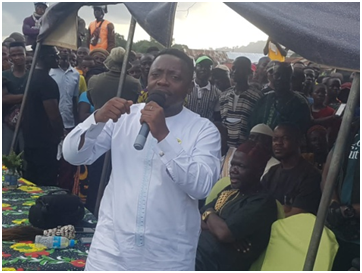 By Abubakarr Harding
In his continued demonstration of unflinching support for the Sierra Leone People's Party (SLPP) in general and President Julius Maada Bio in particular, Chief Abdul Kadiru Kaikai, over the weekend, held talks with traditional healers in Kenema District on how they could contribute their respective traditional medical skills into positive processes that could help in the health sector and invariably contribute to the national well-being of both citizens and foreigners. The meeting also saw Chief Kaikai further explaining about President Bio's desire to make their skills more profitable to both them and the nation.
Speaking during the meeting Chief Kadiru Kaikai recognized the role these traditional healers played during the war, acting as civil defence forces to protect their land, and assured them that President Bio is desirous of transforming their skills to meaningful contributions to the country's development agenda, where they would be able to use their skills to address certain pressing ailments that cannot be treated by western medical means.
He furthered that President Bio is a development oriented President and is looking at all ways to develop the capacity of citizens. He mentioned that as the election is getting closer, they should support the President and vote him in for a second term, so that he will be able to continue to realize his dream of transforming them into a viable entity that will be nationally and internationally recognized for their respective expertise.
He furthered that the perception of many people is that traditional healers are merely involved in negative actions like what is normally known as Fangay etc, but many do not know about the good side of their work, that they could be very useful in addressing most of the illnesses that have not been addressed by western medicine.
Kadiru Kaikai furthered that with President Bio at the helm of affairs in governance, he is aware of the immense benefits of traditional medicine and is determined to promote their work and make it more visible and give it a status in the health sector. He, therefore, admonished them to throw their support behind President Bio for the second term bid and see the realization of his promises, stressing that His Excellency is a man of his word, and whatever he promises; he ensures that they become reality. He called on them to take President Bio as their younger brother and work with him for the betterment of the nation, adding that as someone who pioneered democracy and peace in the country, President Bio is determined to make this peace sustainable and ensure that development is brought to every part of the country. He reminded them of the various development drive of the President in education, infrastructure, agriculture, health, electricity and a whole lot of other development achievements.
President of the Traditional Healers, Mohamed Konneh, expressed appreciation for the move made by Chief Kadiru Kaikai for having them in mind and his continued support. They also commended the President for showing the desire to work with them in transforming the lives of citizens, and assured him that they will support the President's second term bid and will continue to work with the Government.
Other Traditional Healers in the gathering expressed joy of hearing about the transformative drive of President Bio to change their narrative, and expressed their determination to give him their unflinching support in the 2023 Presidential and General Elections. They also acknowledged the strides made by the President in bringing development to various parts of the country and assured Kadiru Kaikai of their continued support to the Government of President Bio and his re-election in 2023.