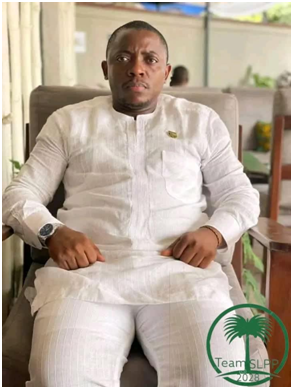 By Abubakarr Harding
After traversing the length and breadth of this country, motivating and inspiring residents to turn out in large numbers to register in the just concluded voters registration exercise, Chief Kadiru Kaikai has also concluded meeting with   Party Stakeholders, urging them to work together as a team in order to secure landmark victory for President Bio come to the 2023 general elections.
Now with the Electoral Commission of Sierra Leone pronouncing that the proportional representation (PR) system will be used to conduct the forthcoming General Elections, Chief Kadiru has assured that he would keep traveling to districts, constituencies, and wards to meet with key party stakeholders and talk about how important it is for party members to stick together ahead of 2023.
Such laudable move by Chief Kadiru Kaikai, many have said, is geared towards  appeasing  some key stakeholders who have worked hard for the party from 2012 to the 2018 elections but feel they have not receive any recognition or benefits from the party.
"𝐖𝐞 𝐦𝐮𝐬𝐭 𝐰𝐨𝐫𝐤 𝐭𝐨𝐠𝐞𝐭𝐡𝐞𝐫 𝐚𝐬 𝐚 𝐭𝐞𝐚𝐦 𝐭𝐨 𝐰𝐢𝐧 𝐟𝐨𝐫 𝐨𝐮𝐫 𝐠𝐫𝐞𝐚𝐭 𝐩𝐚𝐫𝐭𝐲, 𝐚𝐧𝐝 𝐈 𝐚𝐦 𝐬𝐮𝐫𝐞 𝐭𝐡𝐚𝐭 𝐲𝐨𝐮𝐫 𝐩𝐞𝐫𝐬𝐨𝐧𝐚𝐥𝐢𝐭𝐢𝐞𝐬 𝐰𝐢𝐥𝐥 𝐡𝐞𝐥𝐩 𝐮𝐬 𝐬𝐮𝐜𝐜𝐞𝐞𝐝. 𝐘𝐨𝐮 𝐚𝐫𝐞 𝐯𝐚𝐥𝐮𝐚𝐛𝐥𝐞 𝐩𝐨𝐥𝐢𝐭𝐢𝐜𝐚𝐥 𝐚𝐬𝐬𝐞𝐭𝐬 𝐟𝐨𝐫 𝐭𝐡𝐢𝐬 𝐩𝐚𝐫𝐭𝐲 𝐰𝐢𝐭𝐡 𝐚 𝐭𝐨𝐧 𝐨𝐟 𝐢𝐧𝐝𝐮𝐬𝐭𝐫𝐲 𝐤𝐧𝐨𝐰𝐥𝐞𝐝𝐠𝐞, 𝐚𝐧𝐝 𝐲𝐨𝐮 𝐮𝐧𝐝𝐨𝐮𝐛𝐭𝐞𝐝𝐥𝐲 𝐡𝐚𝐯𝐞 𝐚 𝐯𝐨𝐢𝐜𝐞 𝐢𝐧 𝐭𝐡𝐞 𝐜𝐨𝐦𝐦𝐮𝐧𝐢𝐭𝐢𝐞𝐬 𝐰𝐡𝐞𝐫𝐞 𝐲𝐨𝐮 𝐥𝐢𝐯𝐞," he stated.
Chief Kadiru Kaikai acknowledged that it is extremely important to identify with committed SLPP members who will run the party's operations and ensure that its presidential candidate, Julius Maada Bio, wins in most parts of the country.
He emphasized the need for unity among party stewards and urged them to love one another and always work for the progress of the party and President Bio.
"𝐖𝐞'𝐯𝐞 𝐝𝐨𝐧𝐞 𝐢𝐭 𝐢𝐧 𝐭𝐡𝐞 𝐩𝐚𝐬𝐭, 𝐚𝐧𝐝 𝐰𝐞'𝐥𝐥 𝐝𝐨 𝐢𝐭 𝐚𝐠𝐚𝐢𝐧. 𝐓𝐡𝐨𝐬𝐞 𝐨𝐟 𝐮𝐬 𝐰𝐡𝐨 𝐚𝐫𝐞 𝐲𝐞𝐭 𝐭𝐨 𝐛𝐞𝐧𝐞𝐟𝐢𝐭 𝐬𝐡𝐨𝐮𝐥𝐝 𝐫𝐞𝐦𝐚𝐢𝐧 𝐩𝐚𝐭𝐢𝐞𝐧𝐭 𝐰𝐢𝐭𝐡 𝐭𝐡𝐞 𝐩𝐚𝐫𝐭𝐲. 𝐈𝐭 𝐰𝐚𝐬 𝐲𝐨𝐮𝐫 𝐛𝐫𝐨𝐭𝐡𝐞𝐫'𝐬 𝐭𝐮𝐫𝐧 𝐲𝐞𝐬𝐭𝐞𝐫𝐝𝐚𝐲; 𝐩𝐞𝐫𝐡𝐚𝐩𝐬 𝐢𝐭 𝐰𝐢𝐥𝐥 𝐛𝐞 𝐲𝐨𝐮𝐫 𝐭𝐮𝐫𝐧 𝐭𝐨𝐦𝐨𝐫𝐫𝐨𝐰. 𝐈 𝐚𝐦 𝐰𝐞𝐥𝐥 𝐚𝐰𝐚𝐫𝐞 𝐨𝐟 𝐲𝐨𝐮𝐫 𝐠𝐫𝐢𝐞𝐯𝐚𝐧𝐜𝐞𝐬, 𝐯𝐢𝐞𝐰𝐩𝐨𝐢𝐧𝐭𝐬, 𝐚𝐧𝐝 𝐢𝐝𝐞𝐚𝐬 𝐭𝐡𝐚𝐭 𝐰𝐢𝐥𝐥 𝐩𝐫𝐨𝐦𝐨𝐭𝐞 𝐩𝐚𝐫𝐭𝐲 𝐮𝐧𝐢𝐭𝐲. 𝐀𝐧𝐝 𝐈 𝐚𝐬𝐬𝐮𝐫𝐞 𝐲𝐨𝐮 𝐭𝐡𝐚𝐭 𝐨𝐮𝐫 𝐠𝐫𝐞𝐚𝐭 𝐩𝐚𝐫𝐭𝐲, 𝐥𝐞𝐝 𝐛𝐲 𝐇𝐢𝐬 𝐄𝐱𝐜𝐞𝐥𝐥𝐞𝐧𝐜𝐲, 𝐉𝐮𝐥𝐢𝐮𝐬 𝐌𝐚𝐚𝐝𝐚 𝐁𝐢𝐨, 𝐰𝐢𝐥𝐥 𝐭𝐚𝐤𝐞 𝐚𝐜𝐭𝐢𝐨𝐧 𝐭𝐨 𝐚𝐝𝐝𝐫𝐞𝐬𝐬 𝐲𝐨𝐮𝐫 𝐜𝐨𝐧𝐜𝐞𝐫𝐧𝐬." Chief Kadiru assured party stakeholders.
Stakeholders present in the meetings commended Chief Kadiru Kaikai and his team for their efforts and also assured him of their readiness for party campaign activity and delivery of SLPP candidates across the board in the forthcoming elections.