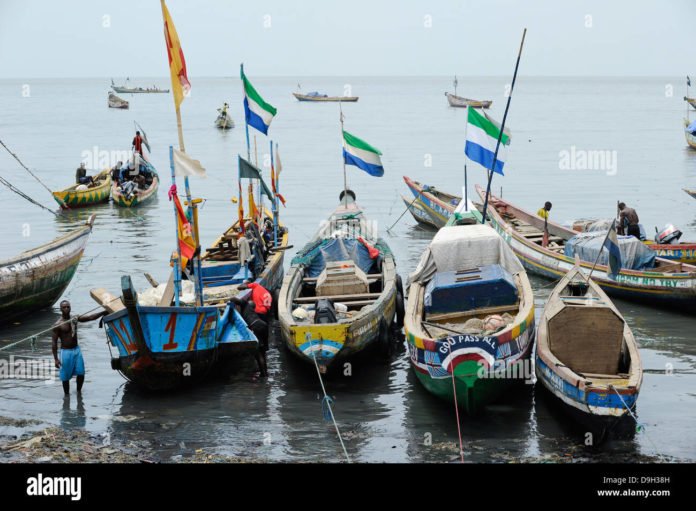 By Amin Kef Sesay
If the cry of the country's fishermen that work onboard trawlers falls on deaf ears in the Fisheries and Marine Resources Ministry, then their last resort would be to call a general strike to draw attention to what they call their deplorable working conditions.
Among other things, the disgruntled trawler fishermen are calling for a hike in their salaries commensurate with the work that they do.
These grievances of over 1000 trawler fishermen were highlighted quite recently at a meeting summoned at Negus Nagaz complex along the Grafton-Regent highway.
At the 'blow mind' meeting, one of the fishermen, Alie Fofanah said they called in the media to draw attention to failure by the authorities to satisfactorily address their long standing grievances against their agents and employers.
He reported that for a long time they have had unsuccessful engagements with the leadership of Fishermen Union, their vessel agents, the Labour Ministry on welfare issues such as the reduction of their salaries, nonpayment of their NASSIT subscriptions, non-availability of medical facilities, lack of balanced diet, lack of safety gears, among others.
He said they know that the Chinese employers pay them three million Leones (Le3,000,000) per month, but their recruitment agents only pay them a paltry one million one hundred thousand Leones (Le1,100,000) a month.
Furthermore, their agents stubbornly refuse to make NASSIT contributions for them.
Sao Kabba reported that they have no medical allowances and that any fisherman injured on duty gets no medical attention and compensation.
Furthermore, he moaned that food and water supply to them are not adequate. He disclosed that some vessels bosses supply 3 bundles of water per month. When it runs out, even if it remains five to ten days for the vessel to return, they are not replenished
The fishermen squarely blamed the Ministry of Labour and their agents of not seeking their welfare; stating that they pay fifty thousand Leones per month to the union office for which they get no service from the Union.
Thus, the fishermen who are on temporary leave as the month-long ban on fishing lasts are calling on the Ministry of Labour to engage their agents and employers on the issue that they have brought forward.
Within the context of these fishermen complaining of deplorable living and working conditions that include one meal a day, water rationing and cardboard beds, the fishermen The Calabash spoke to recommended strongly that the authorities increase on-board fishing observation  to strictly monitor and ensure practices by foreign vessels at sea comply with local legislation as they decried the gross irregularities at sea that include reserving the good catches for transshipment to overseas markets with the country not benefitting from those export earnings.
They maintained that if the authorities work together, they would be able to provide a stronger monitoring system, they would be able to assess the volume of their stock and agree how much fish is reasonable to let fishing fleets catch while at the same time ensuring there is enough fish for the local communities.