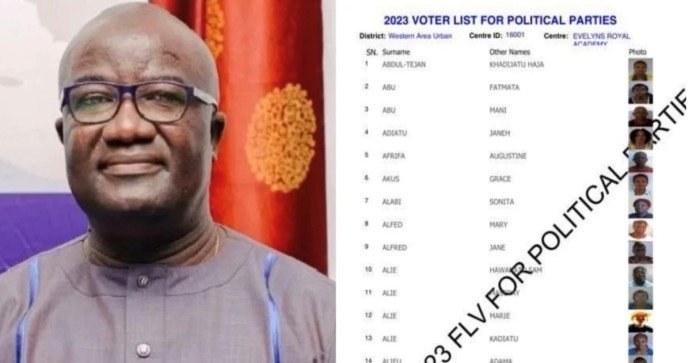 By Amin Kef (Ranger)
It could be recalled that the Electoral Commission for Sierra Leone (ECSL) on the 8th June, 2023 issued out the Final Voters List (FLV) to endorsed political parties that will be competing in the June 24 Polls.
However, the main opposition APC Party raised objection based on clarity and one of its Executive members, Dr Richard Konteh said on Twitter: "What ECSL gave to the Political Parties is not a Voters Register. Section 13 of the PEA of 2022 provides that a Voters Register should contain the names and particulars of persons entitled to vote and not just a simple name and a blurred picture that is at least six years old."
He continued by stating that  ECSL is clearly in breach of Sections 13 and 18 of the PEA of 2022. It is also in the process of breaching Section 92(2) of the same Act by attempting to bypass the District level certification which is to take place in the office of the District Elections Manager.
The APC strongman further maintained that a credible Voters Register should also contain the Voter identification number, date and place of birth, sex, and signature or thumb print of the Voter adding that Section 18 of the PEA also stipulates that this whole process should have been completed six months to the elections.
On its part, ECSL on Friday, 9th June, 2023, replaced copies of  the Final Voters List (FVL), otherwise known as the Voter Register Data or Disaggregated Voters Register, that were previously issued out to  political parties APC that raised an objection .
However, the reason stated by ECSL for the replacement of copies of the Final Voters List was borne out of the realization that the photos of West Region were printed in black and white instead of in coloured like the other regions. However, ECSL assured that other details remain the same.
On the Twitter Page of ECSL, it was confirmed that the Commission has replaced copies of FVLs given to political parties because of the concerns they raised about the aspirants photos of West Region being in black and white instead of colored like the other regions.
Prior to the Commission doing so, it was circulated on Social Media and other platforms that the issue of the aspirants of the West Region not seen properly makes it hard to recognize them. Concerns were as well raised about how such will affect the choosing of candidates on Polling Day to which the ECSL claimed had been rectified.
Some have commended ECSL for the move to publish the coloured photos of the aspirants claiming that such will help to foster transparency, peace and tranquility during the elections of 2023.