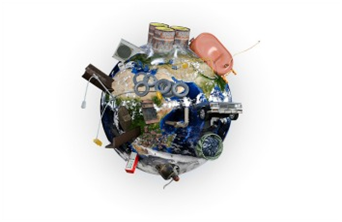 By Ranger
The planet is home to a diverse group of plants and animals that live on land, in the water, and up in the air yet we all manage to live harmoniously most of the time. Unfortunately, the beauty of nature is slowly fading as human activities continue to wreak havoc on the environment. Pollution is at an all-time high and numerous species already went extinct because of irresponsible hunting and poaching. You can't even recognize the world we live in now from the world where our forefathers lived in. Forests are receding as cities keep on expanding. If we don't stop now, the future generations may miss out on many of the things we take for granted now.
Over the years, environmental conservation efforts have doubled because activists see the extent of the damage to our planet. And you don't need to be reminded of it every day in the news because you can see and experience it for yourself. Weather systems and phenomena have changed and countless lives and properties suffer from the wrath of Mother Nature each year. Reducing your carbon footprint is one of the ways we can contribute to protecting the environment even in your own little ways.
Additional environmental projects being run by the mine include conservation farming as local farmers are learning the benefit of farming methods which preserve the soil's fertility and improve crop production.
"Conservation farming is one of the livelihoods that we are encouraging people in Kalumbila to adopt and practice for obvious reasons. We want to protect our environment," Trident Foundation Agriculture Field Supervisor, Christopher Chenga said.
Out of the different methods of agriculture, they believe conservation farming takes care of the environment as once a field is opened up, a farmer continues using that piece of land throughout their lifetime and for generations after.
He said by staying in one place, a farmer avoids cutting more trees and opening up more fields.
Certain industries like lead mining have a profound effect on the environment. It's what happened to a Zambian town, which was dubbed as the world's most toxic town in terms of pollution just this previous month. Mine waste disposal is one of the major concerns for obvious reasons aside from that of water and air pollution. We all know how big of a threat global warming and climate change is and you are not safe wherever you are in the world. However, things are starting to change for the better for them and it's all because they decided to do what's right after all.
The Government has taken a slew of measures to deal with climate change and curb environmental pollution. In line with the UN Sustainability Development Goals (SDGs) 2030, India too set its sustainability goals and solemnly pledged for a safer environment. However, action at the grassroots level has been slow with delays in implementation and economic prosperity taking precedence.
In light of the absolute urgency to preserve the deteriorating environment and resources, what should Sierra Leone do?
While the Government has established concerted measures to conserve both water and energy, little action has been taken so far, even as Sierra Leone continues to witness recurring droughts, extreme temperatures and rising pollution.
At present, Sierra Leone is sustaining an estimated number of 8 million people living without access to clean drinking water. One of the primary reasons for this paucity is uncontrolled abstraction of water for industrial and agricultural use. It is therefore imperative to focus on promoting recycling and reuse of water and waste water treatment as part of the national agenda to create value.
Many nations all over the world are experiencing rapid urbanization. Technology is a big part of our lives, which is not always environment-friendly. It's the main reason why climate change has arrived quite early than expected because the planet is changing at a rate never seen before in the past. The population has also exploded exponentially. Several billions of people compete for the world's natural resources that are sadly finite. The time will come that we'll run out of non-renewable energy sources and live in an inhospitable planet that makes daily living doubly more challenging.
Most progressive countries use fossil fuel because they are convenient to use but there are other renewable sources we can also tap that won't harm the environment. Not only are they safe to use, they are sustainable too. The environment should not always suffer for the sake of economic prosperity but one sector can't do it alone. Environmental protection requires the collaborative effort of both the public and private sector as the damage is already extensive and we need all the help we can get to turn things around for the better.