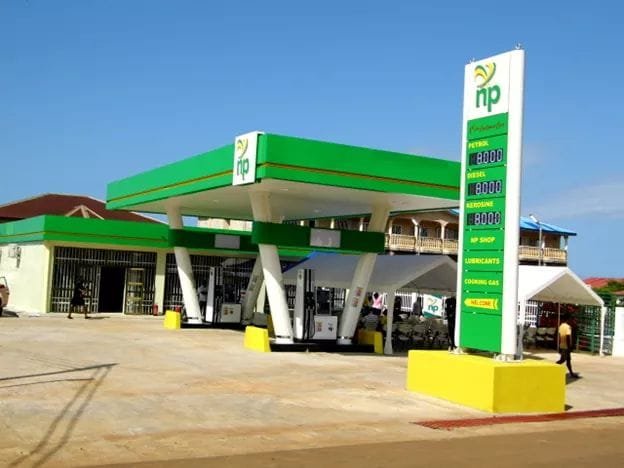 Sending IB3 to Short Code 2713 via Africell for an AWOL Award…
Among the category of 'Best Indigenous Company of the Year'  the National Petroleum –Sierra Leone Limited (NP-SL Ltd), was nominated as one of  the 'Best Indigenous Company of the Year'  for this year's National Achievements Awards slated to take place on the 29 December 2019 at the Bintumani International Conference Centre at Aberdeen in Freetown. Currently, the voting process is on and our reporters hit the streets to sound the views of the nominees in that category it turned out that NP-SL is uppermost on the minds of many who categorically stated that they are really proud of  the way and manner in which the company has maintained itself since inception to date.
According to Mohamed Bailor Wurie, a vehicle repair garage owner, " There are indigenous companies that were formed but over little time folded up, some still the same as they were but with NP it is a different story as the company has grown exponentially to become one of the towering entities on the business landscape of this country." He furthered that to see a 100% indigenous owned company weathering stormy times and still surviving today amidst a lot of challenges speaks volumes of how selflessness and dogged commitment could make the sky the only limit highlighting how NP-SL has really proven that what seemingly appeared to be an impossibility turned out to be a big possibility.
To vote for NP-SL Ltd all what an individual needs to do is to just send IB3 SMS to short code 2713 via Africell.
One big accomplishment that the company scored recently, within the realm of discharging its Corporate Social Responsibility, was providing a water facility at the National Fire Force Branch in Kissy, Freetown, with the objective of enhancing accessibility to water supply for fire fighting purposes. Costing the company millions of Leones, the water facility was handed over to the Force and indisputably it is a big boost to combat an outbreak of fire within Greater Freetown. Love for country, which is an indigenous attribute, could best be the driver to push such a development-oriented initiative to become a tangible reality on the ground that comes with tremendous benefits.
What is so striking about the company is the mere fact that it is truly indigenous , formed by 35 Sierra Leoneans who ploughed their end of service benefits as former workers of the British Petroleum Company by buying shares from the then Government that was in power to form the National Petroleum Sierra Leone Limited. Since its formation, the shareholders have maintained its indigenous posture. It is the company's policy to have in its employ indigenes as long as they are competent enough to perform tasks assigned to them instead of bringing expatriates.
This posture by the company has helped in giving job opportunities to those who were hitherto unemployed thereby contributing towards poverty alleviation. Many have applauded the company for such saying it is a true manifestation of adherence to the country's Local Content Policy.
The company has also carved an enviable reputation as 1st for Customer Care. As a matter of fact, it has so prioritized it to such an extent that it is factored in its business transactions with the avowed objective of giving utmost satisfaction. Towards the achievement of that it ensured that its pumping machines installed at various Filling Stations are well calibrated, displaying prices and quantity in order to enhance transparency. This instils confidence among its numerous customers and encourages others to come on-board.
If today many are gaining easy access to petroleum products at affordable prices then that is largely due to the pro-activeness of the shareholders and various Management teams that have steered and still steering activities within the company. This alacrity, on the part of the company, makes it quite possible for these products to be easily accessed preventing the occurrence of shortage that will give rise to dire consequences and grind overall national development to a halt.
To make cooking simple, the company has on offer for sale NP Gas, a device used for cooking and is fuelled by gas which it markets. Manufactured in different cylinders, NP Gas is marketed at the company's various Filling Stations and they are going at affordable prices.
NP Smart Card is a latest technological device used to purchase fuel without the hassle of having physical cash in one's personal possession. This Smart Card which can be accessed at NP could be uploaded with money which in turn can be used intermittently to procure fuel. Many have confessed that it is a reliable and the quickest way of securing petroleum products and very efficient in that direction.
Impressively, the company is among pacesetters that have expanded its operations beyond its shores as it has branches in neighbouring Guinea, Liberia, Ivory Coast and The Gambia where they are vibrantly operating. This has brought pride to many with some claiming that it shows that with brains and determination Sierra Leoneans can climb higher heights.
With an iota of just some of the good things that the company had been and is still doing many say it is imperative that Sierra Leoneans should vote for an indigenous company that has stood firm during the thick and thin of business transactions. Although it is yearning for debts owed it by both public and private institutions as well as gaining easy access to foreign exchange ,however, it is determined to do exceptionally well in 2020.
Vote now: Just send IB3 SMS to short code 2713 via Africell. It has been noted that NP-SL is serving as an inspiration to many and we should be very proud of that.