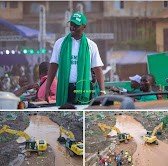 By Amin Kef (Ranger)
Mohamed Gento Kamara, commonly known as Gento, received a rousing welcome on the 11th May, 2023 as he and his entourage stormed the Bomeh (Culvert) dumpsite, close to Ferry Junction, in the East End of Freetown to assess the clearing and cleaning of mainly the drainage that runs through the site and the dump site as a whole.
Residents of the Bomeh Community and other nearby communities were out in their Chinese numbers to express their profound thanks and appreciation to a man whom they now consider as God sent to fix the perennial problem that they have been grappling with over the years –Flooding.
Situated on a low land with one part going towards the sea, the Bomeh Community always experienced flooding during the rainy season as a result of washing away of debris from the mountain top which blocks the drainage that runs through that community passing through other nearby communities and whenever the  water tries to find alternative routes, causing flooding, houses are seriously affected always evident in the destruction of lives and properties as well as dislocating the victims.
The only solace that the victims get after any disaster is handouts of food and non-food relief items by various humanitarian organizations. However, the problem remains unresolved with a repetition of similar disasters during the next rainy season leaving residents in a vicious cycle poverty most times worse off than they were before the disasters strike.
Clearing of the Bomeh drainage and the dumpsite itself , with Gento's intervention, commenced on the 10th May, 2023. Deploying a task force of able-bodied youth and heavy machinery, including caterpillars, front loaders as well as trucks, Gento gave clear instructions that the work should be thoroughly done in such a manner that will prevent any alarming disaster from occurring in the unforeseeable future. It was an instruction that was carried to the letter to the utmost satisfaction of residents in that part of the country and Gento himself when he inspected the work on the 11th May, 2023.
As the Freetown City Council Mayor in waiting was warmly greeted with a lot of happiness and praise and promises, Mohamed Gento Kamara, in a passionate manner addressed them an address which resonate very well with the wish of many Freetonians.
He told them how his heart goes out to all those affected by the heavy rains in the city during the past two days disclosing how his thoughts and prayers goes to, especially the  most affected people  in slum and other abandoned communities, adding that many lives have been lost and properties.
Gento continued by informing that the good news is that help is on the way as he decided to contest as Mayor for the Freetown City Council  to work with all to finally fix the drainage and water problems in the city hammering home the point that as they all know he is a man of action and not empty words to which there was a spontaneous outburst of thunderous applause from the beneficiaries , some saying that indeed he is a patriot adding that it is only God that will reward him for his good deeds as many expressed the view  that he is indeed fit for purpose.
Gento continued by revealing to the people that he dispatched trucks and equipment from his private company to help with cleaning the debris all across the city- from the dump site at Kissy to Central Freetown adding how such is a work that he had been doing for a long time now and will continue when he is elected as the Mayor of Freetown. To this also there was an euphoric response of , "We want Gento", "We want Gento".
"For me, it will always be about helping my people and actualizing the vision to fix Freetown," he concluded sending the audience into singing songs of praise for what they described as a timely intervention that will give respite to many.
In interviews conducted by this medium at the Bomeh Community what came out from the respondents was that Gento has displayed an innate passion to fix most of the challenges that Freetonians are currently wrestling with.
An elderly man underscored that he is fit to be the next Mayor of Freetown because of his vast experience in the business world, his passion for community development and his vision for a more inclusive Freetown.
A woman who introduced herself as Mariatu Kargbo and a mother of five children narrated the ordeal that she and her family went through in the last rainy season. She said every time it rains heavily there will be no sleep for them as the water entered their house. Mariatu talked about how she and her children have to put up with another relative and were forced to return to the community after the rains because they were not convenient staying with a relative who also has children.
"With Gento's intervention and from the work I have seen I am highly optimistic that we will not experience the nightmares we went through and I want to extend my thanks and appreciation  to him and all those who contributed in turning around our sorry plight, as for me I am going to cast my vote for Gento on polling day," she expressed gratitude.
One of the influential youth in the community intimated The Calabash that for someone like Gento who possesses the necessary equipment required to sanitize Freetown , him becoming Mayor will be an added advantage for Freetonians as monies that were allegedly spent on the hiring of such equipment by erstwhile Mayors will be diverted into other development projects.
A Political Scientist averred that Gento's plans for better healthcare, clean water supply and provision of basic services and amenities coupled with his desire to create an enabling environment for businesses to grow are what Freetonians need.
"His response to a request in constructing a bridge at the Kroo Bay Community and fixing the drainage at Moa Wharf Community amidst his many philanthropic gestures to the poor and needy are moves that could not be forgotten easily," he concluded adding that somebody of such a pedigree is cut or poised to do greater things.
From the feedback received so far it was clearly manifested that Gento is held in high esteem and their sincere political commitments of casting their votes for him when translated into votes will see him emerge with a landslide victory to become the next FCC Mayor.