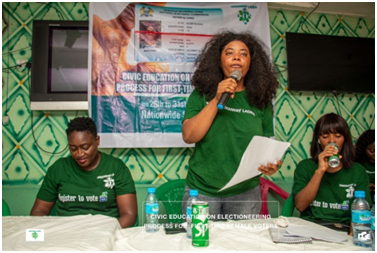 By Jonathan Hindolo Kurabu, D Catalyst
As part of plans to ensure the involvement of women in electioneering processes, a registered female led Organization in Sierra Leone called GREENWAY LADIES has over the weekend engaged first time female voters deemed eligible to vote in the General elections come 2023.
The project titled: "Civic Education for First Time Female Voters" which took place at Njala Mokonde, Kori Chiefdom, Moyamba District, targeted over 500 female voters.
Chairperson for the civic engagement, Mariama Ofori, lauded the women present amid their onerous busy engagements and reiterated on the compelling need to catch them young by creating the awareness and enabling ground for their involvement in appointing good leaders.
Chairlady, GREENWAY LADIES, Md. Kadiatu Kargbo stressed the rationale behind the involvement and active participation of women in politics and decision making noting that the importance of the civic engagement is to ensure and promote women's participation in the registration process and future endeavour in all electioneering processes.
She encouraged her listening audience to not shy away from politics adding that such an ugly move would promote male dominance and also projects tendencies for election of bad leaders who mostly may not work in the interest of women and children.
Chairlady, GREENWAY LADIES, Md. Kadiatu Kargbo said aside the civic engagement held in Njala, similar engagement was held in Tombo and Hamilton adding that their invaluable contributions towards awareness raising, hover around social cohesion and engagement with community stakeholders in relation to incidences of chaos and promised with the availability of funds, to cascade similar initiatives to other parts of the country.
Deputy Head of Productions, Njala University Radio FM 92.5, Hannah Edna Bockarie thanked the Executive of GREENWAY LADIES Organization for the civic engagement especially at such a critical moment when the voter registration exercise has commenced nationwide and urged all eligible women in Moyamba District to register in their numbers and also appealed to the Executive of GREENWAY LADIES to consider having similar engagements in other parts of the county.
SLPP Member of Parliament, Hon. Tshombe and a youth advocate, Monya Konneh, urged all first time voters to pride themselves among the first people to have registered in the ongoing voter registration and appealed to those who have vowed not to register to kindly register and help elect their representatives in Parliament and in the District Councils.
A female football match, presentation to the winning team by Massah Kroma and radio awareness raising on civic orientation and involvement of first time female voters in electioneering processes, climaxed the ceremony.