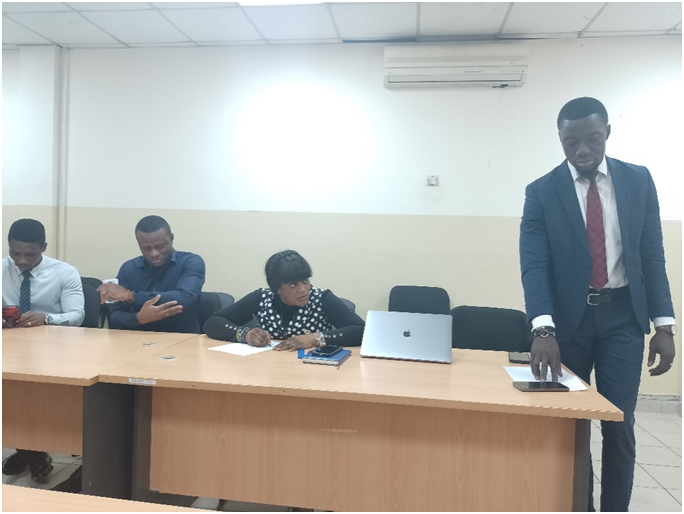 By Abubakarr Harding
Guaranty Trust Holding Company (GTCO) also known as Guaranty Trust Bank Sierra Leone (GTBank) has successfully announced the winners in the final draw of the "Kip Fo D Bambai" Promotion.
A transparent electronic raffle draw was conducted on the 10th November, 2022 at GTBank Wilberforce Street Headquarters in Freetown in the presence of journalists.
GTBank Head of Corporate Affairs, Arthur B. Kallon said the aforementioned promotion was launched in August 2022 for three months as part of the bank's strides to put smiles on the faces of their valid customers. Prizes for August and September 2022 winners have been presented and October prizes will be presented after the announcement of the winners.
Kallon said all what they asked for was for their customers to take advantage of the offer as the promotion has three (3) different qualifying categories which are the Silver, Gold and Platinum. For the Silver, a fresh deposit of account balance must be Three Thousand Leones (Le3000) which is Three Million Leones (Le3, 000,000) in the Old Leones, the sum of Five Thousand Leones (Le5000) which is Five Million Leones (Le5, 000,000) in the Old Leones for the Gold and Ten Thousand Leones (Le10, 000) which is Ten Million Leones (Le10, 000,000) in the Old Leones for the Platinum.
He ,however, said that during the period of the promotion, customers who qualified in the various categories stood the chance of winning attractive prizes which they have announced.
He disclosed that prizes such as air conditioners, microwaves, blender, electric iron, rice cookers in the silver category; Smartphones, gas cooker or refrigerator in the gold category and musical set, deep freezer and smartphone in the platinum category are among the winning prizes.
He described the winning as a good mixture as winners came from the provinces and both sexes won. "Your Santa have come very early, it is good that you have trust and believe in the bank," he said.
Winners in the SILVER Category were:
Saidu M. Bangura with phone number 088 769031 winning a Microwave, Richard Kenneh (077 710640) – Freezer, Musukulah Sankoh  in Mile 91 (076262168) – a  Television  set, Michael Thullah from Makeni (030602319) – Water dispenser, Ibrahim Cherinor Barrie of Leister Road ( 079041072) – Gas Cooker  and Rosaline Koroma from Freetown ( 030316284 )-Sound Bar/home
Winners in the GOLD Category were:
Bockarie Mamson Musa from Freetown (077838833) – TV, Abdulrahman M Kargbo from Freetown (076585009) – Freezer and Lamin Bangura (030254517 ) from Freetown – Deep Freezer.
Winners in the PLATINUM Category were:
Nathaniel Sankoh from Freetown ( 077544804)  won a Giant Plasma TV,