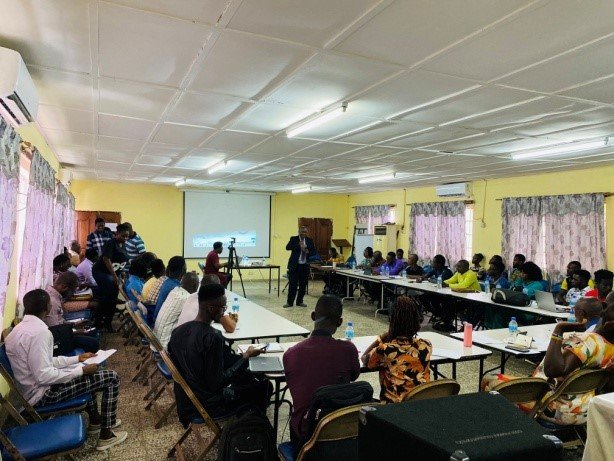 By Foday Moriba Conteh
In a move to strengthen social accountability in the health sector and build the advocacy capacity of health-focused organizations in the country, Health Alert Sierra Leone, a local Civil Society Organization specialized in health development advocacy and accountability programming in the country, with funds from Population Action International (PAI) USA, has on Thursday 31st August, 2023 concluded a two days training for fifty (50) RMNCAH CSO and Youth-Led Coalition Members on SMART Advocacy, Social Accountability & Budget Tracking of GFF funds for effective health service delivery. The two days training was held at the Civil Service Training College on Tower Hill in Freetown.
The participants were carefully selected from five districts in the country based on their understanding of health-related issues and their commitment to advocating for improved health services.
Speaking during the ceremony, the Executive Director of Health Alert Sierra Leone, Dr. Victor Lansana Koroma, said the training is part of the efforts by the Civil Society Organizations (CSOs) and Youth Coalition to track the World Bank's Investment for Global Financing Facility (GFF) contributions to the country's health sector.
He stated that the objectives of the training include enhancing the understanding of CSOs on the concept of social accountability and its relevance in the health sector, equipping CSOs with practical knowledge and tools for effective health sector advocacy and accountability initiatives.
Dr. Victor Lansana Koroma said that the training is also geared towards strengthening network and collaboration among CSOs, enabling them to collectively address health sector challenges and to develop action plans for CSOs to implement social accountability projects in their respective communities.
According to him, upon completing the training workshop, participating CSOs are better prepared to implement social accountability initiatives, including data collection at selected district levels, adding that they have also gained a deeper understanding of social accountability concepts, effective advocacy strategies, and practical tools for data collection and engagement.
The Executive Director pointed out that they have been empowered to collaborate and network with other stakeholders, thereby enhancing their collective impact in advocating for improved health services and accountability.
"This training represents a significant step towards ensuring that Sierra Leone's health sector is transparent, responsive, and accountable to the needs and concerns of its citizens. It also demonstrates the commitment of civil society to actively participate in shaping the future of healthcare delivery in the country," he concluded.
In his presentation on Understanding Social Accountability, the Facilitator, Musa Ansumana Soko described social accountability as the mechanisms, processes, and initiatives through which citizens and civil society organizations (right-holders), hold public institutions (duty-bearers) accountable for their actions, decisions, and the delivery of public services.
He said that its aims to promote transparency, responsiveness, and good governance by enabling citizens to actively participate in monitoring, evaluating, and influencing the actions of public entities in the country.
Musa Ansumana Soko informed participants that social accountability empowers citizens to demand transparency, demand equitable distribution of resources, and advocate for improved service delivery, further establishing a framework for citizens to voice their concerns, provide feedback, and engage in decision-making processes, ultimately contributing to more effective and inclusive governance.
The Program Manager at Health Alert Sierra Leone, Darlington John, also presented on building advocacy skills through SMART Advocacy. These presentations were followed by other presentations on Tools for Social Accountability, Collaboration and Networking etc.
Speaking on behalf of the participants, Buya Nabie Bangura applauded Health Alert Sierra Leone and partner for the training on SMART Advocacy and Social Accountability. He described the training as not only important but very timely considering the current challenges faced by the country's health sector.
He said that through the training they have been equipped to enable them to push for transparency, fair resource allocation, and better service delivery in the country.
"The training has enhanced our understanding on the concept of SMART Advocacy and social accountability, and its relevance in the health sector. We now have the practical knowledge and tools for effective health sector advocacy and accountability initiatives," Buya Nabie Bangura maintained.
The training program signifies a significant stride toward empowering healthcare advocates and fostering accountability in Sierra Leone's healthcare sector.