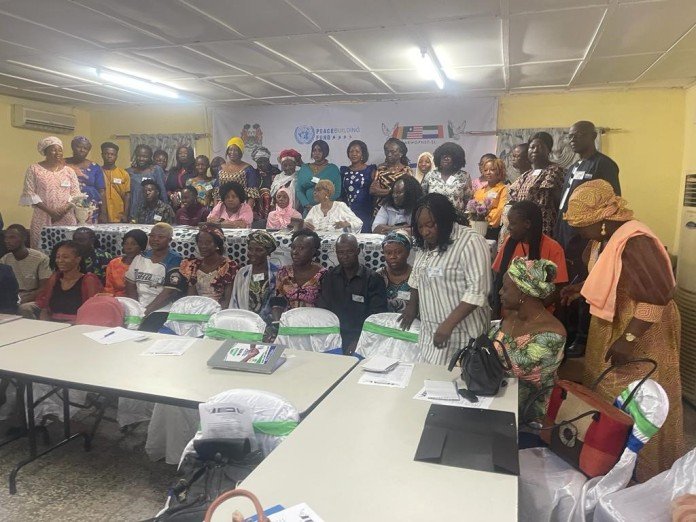 By Millicent Senava Mannah
The Country Director of the Mano River Women Peace Network (MARWOPNET-SL), Yasmin Jusu-Sheriff, has expressed her concerns over female aspirants who were voted for as Parliamentarians under the main opposition party. According to her, these women have been denied their constitutional rights to represent their people.
She made that statement during her organization's training on Gender Responsive Post Elections Security and Justice with support from UNDP and other affiliated organizations. The event was held on the 12th July, 2023  at the Civil Service Training College on Tower Hill.
Yasmin continued that, for the first time in the country, women have up to 41 seats in Parliament. However, she stated that, if the main opposition refuses to allow their women to represent the people who voted for them, then they will not be able to achieve the 30% quota in the GEWE Act that they have worked so hard to achieve.
She maintained that the goal of the event is to engage the security and justice sectors geared towards providing protection and access to justice for female aspirants, candidates and voters (both women and girls).
''Another goal of this training is to increase women and girls' capacities to understand and claim their rights, and to improve national security and justice sectors actors' capacities in order to deliver electoral justice to women and girls,'' she stated.
The President, Women's Forum Network, Sally Adams, commended the organization and their partners for supporting them to organize such an event. She affirmed that more women will create a better political space and therefore female Parliamentarians who have won seats must be allowed to represent the women and the people who voted them in.
''More women, better politics! If these women are not allowed to go to Parliament, the cries of the women in the country would not be heard. They were voted in to represent their fellow women and those who voted for them," she asserted.
The UNDP Representative, Kadie Bash Taylor, said there are certain issues affecting women in politics and how they are within their parties or outside their parties. According to her, they need to ask themselves what can be done to address such?
''What can we do better to create the enabling environment? It is a critical moment for us to assess the past elections on what we did well, and what we did not do well,'' she maintained.
Patricia Gevao, the representative of Women in the Media Sierra Leone (WIMSAL), noted that they have a crucial role to play in women's development in the country saying they would work hard to change the public perception of women and to change the gender norms in the country.
According to her, they have witnessed positive strides in promoting women and how they will continue to promote women's sensitive responses.
Different sessions were held and the event was climaxed by Q and A session.