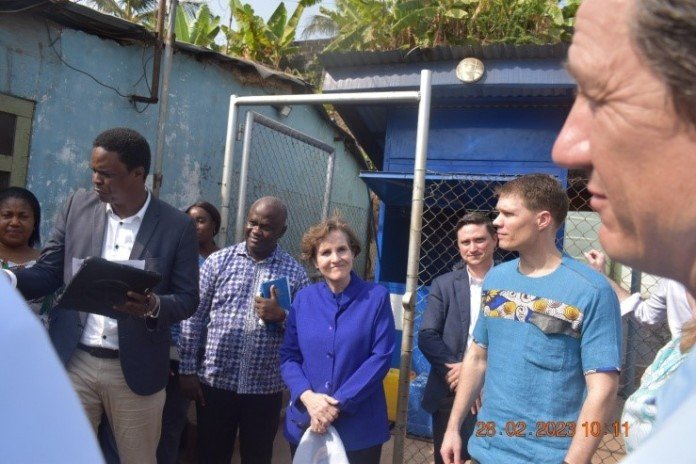 One of the Guma Valley Water Company water kiosks at Spain Area, Kroo Bay that were constructed under the MCC funded Threshold Program that ended in March 2021 was visited on the 28th Febrauary, 2023 by the Chief Executive Officer of the Millennium Challenge Corporation (MCC), Alice Albright.
The rationale behind her visit was to meet with community residents that are benefitting from the project.  It must be noted that the Threshold program grant was designed to improve clean water access and electricity services within Freetown.
During the visit, the Managing Director of Guma Valley Water Company, Maada S. Kpenge thanked the Government and People of the United States of America for the tremendous support that Guma received under the Threshold Program.
MD Kpenge informed the MCC CEO Madam Albright that a total number of 10 water kiosks were constructed during the program to improve water service delivery in the Kingtom and Aberdeen District Metering Areas (MDAs).
He said the implementation of the innovative pilot intervention in Kingtom and Aberdeen benefitted over 40,000 people who have been struggling to access pipe borne water from the Guma network for more than 10 years.
Ing. Kpenge added that the DMA intervention helped to build an understanding of the operations of the distribution network, reduced Non-Revenue Water and laid the foundation for the improved commercial and financial viability of Guma Valley Water Company.
The Guma MD said the intervention has increased access to water service delivery for low-income households in the selected communities.
Fatu Kamara, a resident of Spain area at Kroo Bay praised the Government of the United States of America for constructing the water kiosks and public toilets for them and called on Madam Albright to give more support in terms of social amenities to the Kroo Bay Community.