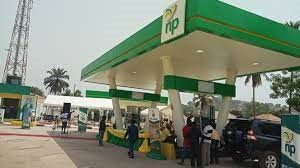 By Amin Kef (Ranger)
NP (SL) Ltd, it has been confirmed, is a successful petroleum marketing business entity that has, over the years, been hugely contributing to the socio-economic development of this nation in diverse ways.
This assertion could be justified when cognizance is taken of the company's serious deepening of the country's Local Content Policy as vividly evident in giving exceptional preference to employing indigenes contrary to bringing in foreign expatriates to execute certain tasks.
Whenever the company partners with any entrepreneur who intends owning and operationalizing a Fuel Station one of the requirements that must be fulfilled is giving employment opportunities only to indigenes, especially those residing within the community where the Fuel Station will be located.
In terms of out sourcing other entities that should undertake certain tasks on behalf of NP, only Sierra Leonean entities must be considered except in situations when it is necessary to do so externally.
This laid down policy that is strictly implemented has created room for the employment of many Sierra Leoneans who have the requisite qualifications and skills giving them the opportunity to work, earn money in order to take care of personal responsibilities.
This admirable quality that NP-SL Ltd has been exhibiting throughout the years is geared towards giving preferential treatment to indigenes or making use of local ingredients, in the form of human and material resources, instead of depending on those that are acquired through importation.
The company has deepened the laid down policy of giving preferential employment consideration to indigenes instead of relying on expatriates.  As long as Sierra Leoneans have the requisite qualifications and skills they are first considered for various vacant positions in the company. The greatest advantage is that the policy has made it possible for indigenes to be gainfully employed and live improved standards of living.
"I cannot find words to express how delighted I am as I can proudly say that NP-SL has changed my life completely since the company employed me," one of the workers at NP Cotton Tree branch joyfully intimated The Calabash when this medium went out on a fact finding mission.
"As far as I have assessed in this country it is only NP-SL Ltd that has such a pragmatic policy of maintaining a policy that gives job preferential treatments to Sierra Leoneans and I have great respect for the indigenous company," Raymond Cole, a Social Commentator eulogized.
With the introduction of NP Smart Card by the company, which has gone viral, the Card can be credited with money and the amount of money utilized to buy fuel is debited after every transaction.
With the use of NP Smart Card, customers are saved the hassle of having to always move with physical cash in their possession in order to purchase fuel and indeed there are times when one may not have time to rush to the bank to make withdrawals.
Customers, who are holders and users of NP Smart Card, are at the vantage position to properly budget, through the amount that is contained in the card to buy fuel, during a considerable period of time, say a week or a month. Indeed, NP Smart Card has become trending.
In order to ensure that their customers derive value for money, it was thought prudent on the part of Shareholders and Management to make use of state of the art and highly modernized calibrated pumping machines which were installed at the company's different Filling Stations capable of pumping the exact quantity of fuel, be it petrol or diesel, that a particular customer requested for.
This fine move by the company has helped instilled confidence among customers that they are really dealing with a very transparent business entity and getting what they are paying for. This singular business strategy has got many glued to a petroleum company that is considered to be marketing the best of petroleum products which include petrol, diesel, gas and high grade lubricants, one of which is the most sought out Castrol oil, said to be very good for the proper functioning of engines.
The company also markets NP Gas which is a cooking device that is manufactured in different cylinder sizes and sold at the company's Filling Stations across the country. It can be easily refilled with gas, is said to be non-hazardous to the health of individuals and easy to operate. Its performance has been rated high and many are indeed going for it.
One yardstick that could be used to assess the potency and vibrancy of a company is how well it is entrenched or established. With regards NP-SL Ltd, one can actually see that the company, over the years, has grown by leaps and bounds as seen in its opening of branches in neighbouring Guinea, Liberia, Ivory Coast and The Gambia. All these NP branches, within the sub-region, are functioning very efficiently and contributing immensely towards the socio-economic development of those host countries. Through their operations, the company is paying taxes to the various Governments and indirectly boosting the revenue bases of those countries to roll out different development programs.
From all that have been said so far, it could be argued with all amount of certainty that NP-SL Ltd is indeed a highly successful and very competitive petroleum company that continues to stand tall within the business landscape of this country. And from the look of things it is poised to reach higher heights.