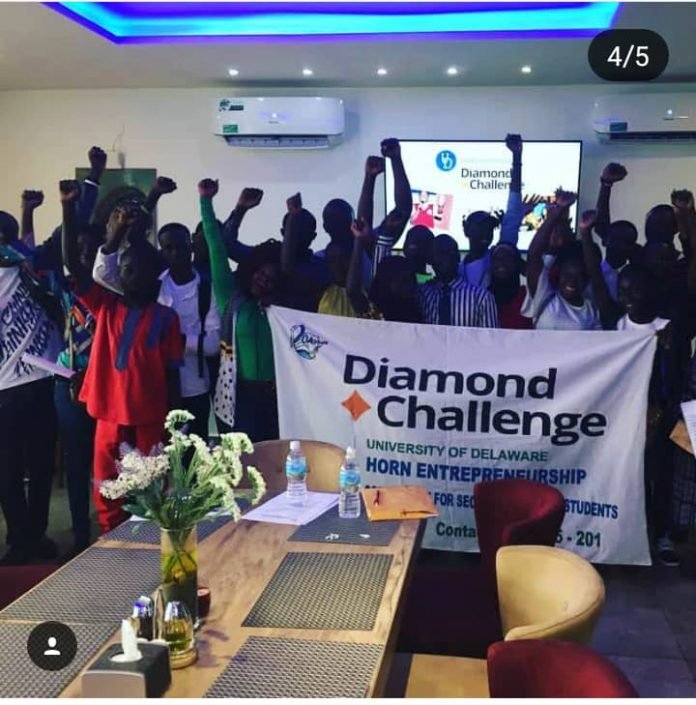 During one of the weekly seminars held at the Hotel Cabenda on Saturday 19th January 2019, the Country Representative for the Organisation of African Youth (OAYOUTH), Ambassador Abdul Kalokoh disclosed that his organisation has organised a national competition for high school kids through the Diamond Challenge initiative. The finale of the competition which is schedule to take place on the 9th of February 2019 will eventually see the winning team having the opportunity to travel to the USA to attend a global seminar.
In an exclusive interview with this medium, Amb. Kalokoh, who also doubles as the National Coordinator for Diamond Challenge, stated that in order to realise their entrepreneuring vision for Sierra Leone they have targeted secondary school kids in a bid to get them to bring out their hidden talents and transform them into business ventures for the benefit of the country. In this regard, some 24 teams of 3-4 pupils per school were selected to develop ideas through networking with others that will eventually be realized as a business entity. "DC-2019 Competition is designed to give high-school students an opportunity to engage in entrepreneurial planning," he said.
Giving a brief background to the project, Amb. Kalokoh said that since its conception in 2012, some 4,000 students from over 35 countries and 25 States have been engaged in the program. This, he maintained, is to provide an opportunity for them to create, capture and deliver value from new ideas regardless of their future career path. With the 'Horn Entrepreneurship's Diamond Challenge', the various teams will develop plans for their own viable businesses, which each team will then pitch before a panel of judges. After proper scrutiny of their business plans, the judges will then choose 3 teams from the 24 teams in the competition and the winner who tops the group will then get the opportunity to represent the country in a global seminar to be held in the USA. The national contest will take place on the 9th February 2019.
He further explained that the goal of the program is to identify potential young entrepreneurs, equip them with the relevant skills to shape their ideas into sustainable businesses and innovation and expose them to opportunities that will scale up their ventures to solve pressing problems in the country. They are targeting some 50 students that will be mentored to develop business ideas and build their capacity in identifying, harness, developing and empowering potential entrepreneurs in their various schools.
After the interview the seminar then continued at the Cabenda hotel with a number of students.