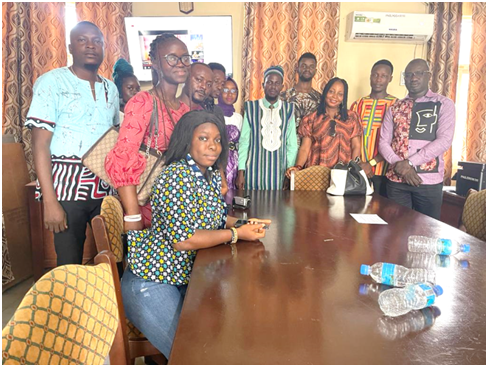 By Foday Moriba Conteh
As part of their efforts towards equipping media practitioners to promote Adolescents Sexual Reproductive Health & Rights through advocacy in the country, the Planned Parenthood Association of Sierra Leone (PPASL) has on Friday 4th November 2022 held a one-day Refresher Training for media practitioners from different media houses within the Freetown Municipality to promote Adolescents Sexual Reproductive Health & Rights and COVID-19 and control measures in the country. The one-day training was held at the Association's Conference Hall on Richard Street in Freetown.
The one day engagement session to address the unmet need for family planning, maternal health, CSE, gender-based violence, harmful practices that includes FGM, early childhood marriages, unsafe abortion, and HIV and AIDS, amongst others were addressed. The training also covered the basics of SRHR reporting, evidence-based reporting, simplified language for SRHR issues, as well as investigative skills, and writing for different audiences, including policy makers, social media, among others.
Addressing journalists, the Executive Director of Planned Parenthood Association of Sierra Leone, Dr. Sarian Kamara said that the training will serve as a platform in order for PPASL and journalists to have frank discussions geared towards promoting Adolescents Sexual Reproductive Health & Rights through advocacy in the country.
She added that the Adolescent/youth population constitute a significant segment of the country's population but are challenged with various sexual reproductive issues negatively affecting their holistic development in the country.
"As an Association, over the years we have established a strong partnership with the media but we need to be proactive in addressing the appalling health status in the country because the development of the country depends on the welfare and effective contribution of all and sundry to the socio-economic development of Sierra Leone," she maintained.
Dr. Sarian Kamara stated that they cannot succeed in this venture alone but needs effective collaboration with the mass media to perform the critical roles of informing educating and entertaining and that they believe, with the media support they are all poised to ensure a successful outcome in their interventions.
She pointed out that they believe a holistic approach to Sexual Reproductive Health and Family Planning service provision can improve the health status of women and young girls and also reduce SRH problems including teenage pregnancy, Sexually Transmitted Infections Maternal mortality etc. in the country.
The Executive Director maintained that the training will allow journalists to use their different media platforms to empower diverse young people with vast, accurate, and age-appropriate information on sexual and reproductive health hence improving their overall well-being and also serve as peer pressures to ensure the Governments and policies makers meet to their commitments to the Abuja Declaration and other crucial documents at national and international levels as health is wealth.
In his presentation on Health Status of Sierra Leone, the Youth and Communication Officer at Planned Parenthood Association of Sierra Leone,  Samuel Yemeh Koroma, said that the objective of the engagement is to build the capacity of Media Practitioners to be well-informed in reporting in the media, on pressing issues and concerns on SRH&R, as well as identify gaps and opportunities in legal and policy reforms in the implementations of SRH& programs as the media does not only contribute to raising awareness on SRHR issues among the general public, but also plays a critical role in reaching decision-makers.
Samuel Yemeh Koroma added that the engagement will enable the journalists to produce informative pieces that will increase the level of awareness of SRHR among the public, educate them on pertinent issues and help create dialogues in the public.
He said that according to the 2019 Sierra Leone Demographic and Health Survey Teenage Pregnancy between 15-19 years was 21 percent and that 1.7 percent HIV prevalence for women and men 15-49 years.
The Youth and Communication Officer concluded by encouraging journalists to see Adolescent Sexual Reproductive Health & Rights as very important issues that need effective collaboration with the media in order to ensure a successful outcome in their interventions as an association.
A Media and Public Relations Expert, Ahmed Sesay also presented on International & National Treaties, Ethics in Media, and Media Advocacy.
Closing the engagement was a frank discussion between facilitators and journalists on the promotion of Adolescents Sexual Reproductive Health & Rights in the country.