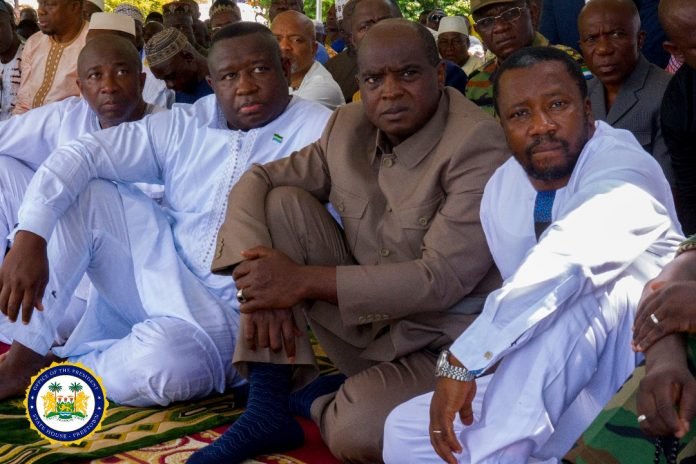 His Excellency President Julius Maada Bio has joined members of the Muslim Community to offer prayers for Sierra Leone as part of this year's 58th Independence Commemoration at a prayer session held at State House.
In his brief remarks after the sermon, President Bio said he was happy to receive Muslim worshippers as they gathered together to reflect on how far the country had come since Independence in 1961. He said the nation had not done well in achieving total independence, considering its reliance on foreign aid and partners.
He mentioned that since he took up office on April 4, 2018, the country had seen great progress and that was indicative of the country heading in the right direction.
"We are working now to build a solid foundation for our country but we cannot do it alone. So, we need to work together in our little ways to make our country better for everyone. As religious leaders, I will encourage you to harmonise your messages as a way of bringing the country together," he said.
The prayer session was part of series of other events marking this year's anniversary. On Saturday 27th April, the President recognised and honoured Sierra Leoneans who have made enormous contributions to public service. And the 58th Independence Anniversary will be climaxed by a Christian service on Sunday, 28th April at State House where many Christian leaders are expected to participate.
As part of the 58th Independence Anniversary, President Bio also addressed the nation on Saturday 27th April. President Bio's decision to mark the Independence Anniversary with prayers by both Muslims and Christians has been commended by many ordinary Sierra Leoneans.