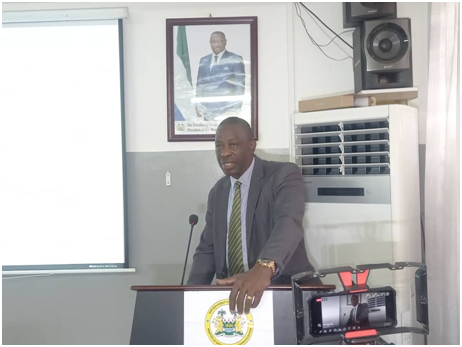 By Isata Fofanah
The Executive Director of the Sierra Leone Seed Certification Agency (SLeSCA) has said that the attainment of food security through seed security is one of the reasons for the establishment of the agency.
Dr. Robert Chakanda was speaking during the weekly Government press briefing hosted at the conference room of the Ministry of Information and Communications, on Thursday October 27, 2022.
He said that there was every need for Sierra Leone and its people to master the art of dealing with seeds, adding that such will be a step in the right direction. He stated that before now, there had been little or no structured seed systems in the country, which he said, was posing a lot of disruptions in the seeds' sector.
Dr. Chakanda noted that such disruptions used to affect farmers, leading to insecurity and an absolute dependence on Government support.
"Government used to import a lot of seeds to meet the demands of farmers and other seed players but since the establishment of the institution in 2015, the focus has been to regulate and control seed activities across the country to enhance quality control through due diligence" he said, adding that the institution has also been overseeing all seed related activities across the country.
He noted that low staff capacity used to be a challenge, but that is a thing of the past, as they have now moved from a 25% staff capacity a 30% capacity.
Dr. Chakanda, however, stated that the chronic importation of seeds, especially rice seeds from Burkina Faso, Mali and Nigeria and the proliferation of seed actors and vendors with little or no control has been a major challenge affecting the operations of the institution, but said that is also a thing of the past now, as according to him, the country did not import a single seed in 2022. He added that the non recognition of major players in the seed industry was another challenge that has now been surmounted.
On Achievements, Dr. Chakanda said that since he took over as Executive Director of the Agency, he has been able to put up a stronger administrative structure for the day today running of the Agency and that they also now regulate national seed actors including encouraging International Partners and the following of importation procedures.
He said that another key deliverable for 2022 is the establishment of 2 regional and district offices, adding that the Agency has an intention to establish more regional areas of operation. He also spoke about their newly equipped seed testing laboratories, noting that a standard laboratory is currently been constructed in Mile 91, Tonkolili District (being the centre of Sierra Leone), and how they are now allowing and promoting private sector growth by encouraging the seed value chain.
Dr. Chakanda concluded by saying that the reduction of rice importation by 50% was also a key deliverable for 2022 and referred to the current zero rice seed importation as a laudable achievement.