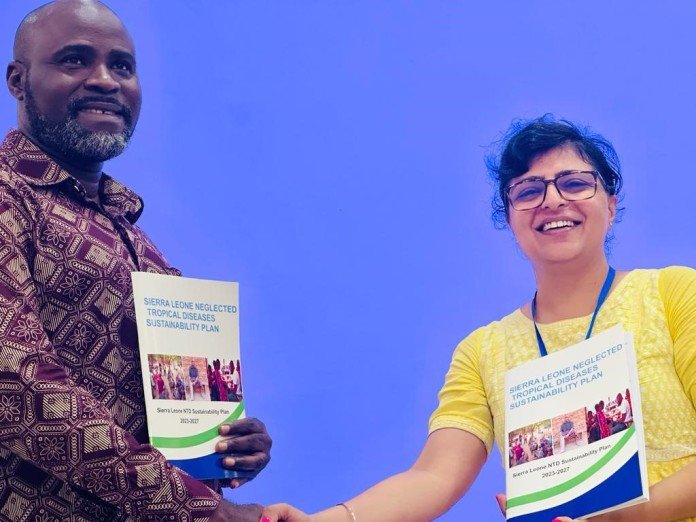 Sierra Leone, on the 18th May, 2023 adopted and launched a plan to tackle neglected tropical diseases (NTDs) sustainably, marking a milestone in the country's efforts to eliminate or control four life-threatening diseases that affect more than 8 million of the country's poorest and most marginalized people.
The plan described by health experts as the first of its kind was launched on Thursday18th May, 2023 at the New Brookfields Hotel in Freetown, Sierra Leone's capital.
Sierra Leone's sustainability plan is an important step towards achieving national and global benchmarks, including the National Health Sector Strategy Plan (2021-2025) and WHO's roadmap targets and milestones for NTDs prevention, elimination and/or control (2021-2030) and for ensuring a healthy population.
Deputy Chief Medical Officer Clinical in the Minister of Health and Sanitation (MoHS), Dr. Musa Kabba, described the launch as epoch-making and community-driven. He expressed optimism that the plan would strengthen and integrate NTD services into the country's national health system to a level that propels progress toward disease elimination and/or control in accordance with national health goals. "The plan ensures that all NTDs activities are well coordinated, resources are utilized effectively and efficiently to deliver life-saving interventions to all communities where NTD activities will be implemented," affirmed Dr. Kabba.
Helen Keller Intl Chief Program Officer, Shawn Baker praised the Country's national NTD program for its success over the past years citing the elimination of lymphatic filariasis in 15 out of the 16 districts – a success she attributed to the determination and resilience of community health workers, religious and traditional leaders and the community. "This is a huge win for the national program and the country as the sustainability framework would enhance strategies that will sustain the progress made so far in the country's efforts to eliminate and/or control NTDs," he emphasized.
United States Agency for International Development (USAID) Acting Director of Health in Sierra Leone, Dayo Spencer-Walter, said that the launch of the plan shows that the country is on the right track to providing lasting solutions to end the suffering caused by NTDs. She expressed USAID's readiness to work with the people and government of Sierra Leone to sustain the gains made in the fight to control and eliminate NTDs."This is a very critical piece of the puzzle. For Sierra Leone to continue on the path of elimination/control of NTDs, the sustainability needs to be thought through and planned for."
The launch of Sierra Leone's five-year NTD Sustainability Plan, which spans from 2023 to 2027, was attended by USAID Sierra Leone's Acting Director of Health, Dayo Spencer-Walter, Sierra Leone's Deputy Chief Medical Officer Clinical, Hon Dr. Musa Kabba, Helen Keller Intl Chief Program Officer, Shawn Baker, Helen Keller's Sierra Leone Country Director, Sugandh Juneja and a host of representatives from relevant government authorities, civil society organizations, local and traditional authorities, academic institutions, students, grassroots activists and the media.
Sierra Leone's efforts to end NTDs which is part of an umbrella initiative in ten other countries in West Africa is funded by USAID's Act to End NTDs | West Program led by FHI360 in partnership with Helen Keller International, Deloitte, World Vision, and American Leprosy Missions.