It is no longer any secret that the Sierra Leone Brewery Limited (SLB)L has continued to provide more jobs in the area of enhancing agriculture and empower sorghum farmers .
Albert Ojo Collier, Corporate Affairs Manager; told this medium that SLBL will embark on its usual Sorghum development and harvest campaign in the South and Eastern provinces from Tuesday 5th to Saturday 9th February 2019 visiting Kailahun, Kenema, Bo and Moyamba. The team comprise Albert Ojo Collier, Unisa Conteh Corporate Affairs Assistant, Denis Jusu, Chairman Sorghum Farmers and Marketers' Association.
"Previously we concluded a pre-planting campaign all over the country to encourage more farmers to go into sorghum cultivation and grow more sorghum for sale to SLBL in the local content job creation drive," he disclosed.
He noted that it's time for harvest and they are conducting the aforementioned campaign to assure the farmers that they are ready to buy all the quantity of sorghum they will harvest further assuring them of a good partnership.
He further informed this medium that they are together with the Chairman Denis Jusu of the Sorghum Farmers Chairman going through remote villages to meet the farmers and even buy some grains through their nucleus farmers through cash purchase.
He added that they are also talking to the farmers via radio stations, holding town hall meetings, meeting Youth Farmer Groups, District Council etc.
It is on record that for quite a considerable period of time now the relationship between SLBL and Sorghum farmers has been very cordial. As a matter of fact the partnership between the two has contributed to provide jobs, in the form of commercial farming, for over 25,000 Sierra Leonean farmers country-wide thereby contributing in poverty reduction. One cannot say it is an exaggeration to underpin that the standards of living of the beneficiaries has improved considerably, with cascading effects, out of what they realise after sale of their harvested produce to SLBL.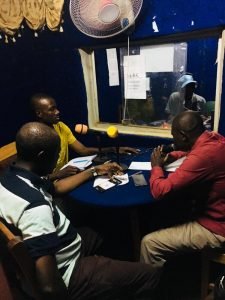 "We are very happy with the way and manner how SLBL is empowering Sorghum farmers in the country and we are doing everything humanely possible to ensure that the mutual relationship is improved for the mutual benefit of all and in the best interest of the country," Chairman of the Sorghum Famers maintained.
Sorghum is one of the ingredients used by SLBL to produce some of their beverages that are marketed.