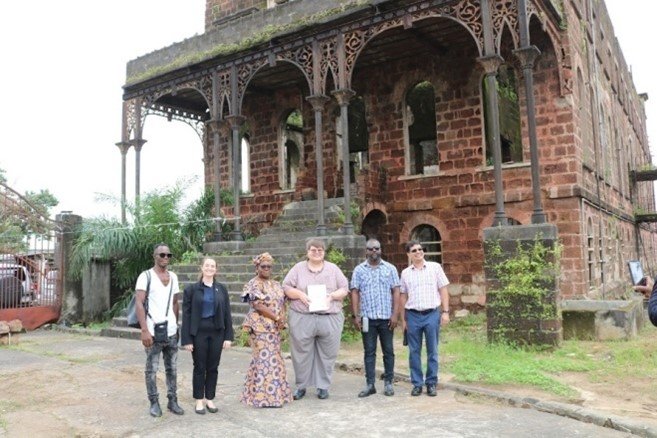 By Amin Kef (Ranger)
The United States Embassy in Freetown on September 28, 2023 announced a substantial $450,000 grant through the U.S. Ambassador's Fund for Cultural Preservation (AFCP) to support the ongoing preservation efforts of Old Fourah Bay College in a move to preserve an iconic piece of Sierra Leone's history.
The grant has been awarded to the World Monuments Fund (WMF), a dedicated implementing partner with a global track record in safeguarding cultural heritage.
This significant funding injection is intended to further the stabilization of Old Fourah Bay College, a historic edifice located in Freetown. Specifically, the grant will be utilized to complete emergency stabilization work on the venerable structure, install a new roof, and conduct critical masonry conservation.
Old Fourah Bay College holds immense historical significance, having been established in 1827 as the first western-style university in sub-Saharan Africa. Over the years, this historic institution has played a pivotal role in Sierra Leone's history and its commitment to education. For a century, the college served as a bastion of learning, imparting knowledge in the fields of governance, religion, and public service. Many of its graduates went on to become prominent West African leaders, contributing significantly to the end of colonialism in the region.
This latest grant marks the second phase of support extended to WMF for the preservation of Old Fourah Bay College. The initial grant awarded in 2021 facilitated the commencement of emergency stabilization efforts and initiated a comprehensive planning and design process in collaboration with the local community, with the aim of eventually restoring the structure to its former glory.
Ambassador Bryan Hunt, who recently paid a visit to the historic site, expressed his enthusiasm for the project, stating, "We are pleased to play a role in the preservation of this incredible historic site in Sierra Leone so it can continue to inspire and educate the public for generations. The story of Old Fourah Bay College is important to preserve for the people of Sierra Leone and for Americans with family ties to this region who can learn from its history as well."
The AFCP, a program administered by the U.S. Department of State, is committed to supporting cultural heritage preservation projects worldwide, underscoring American respect for diverse cultures and historical legacies.
WMF, a non-profit organization with a global footprint, collaborates closely with local communities to safeguard irreplaceable cultural heritage. This second phase of the project has incorporated substantial input from community members and various local stakeholders, who have actively participated in interviews and workshops with WMF, sharing their aspirations for the future of Old Fourah Bay College.
The preservation of Old Fourah Bay College is not just a restoration of bricks and mortar; it is the safeguarding of a rich history and an enduring commitment to education that continues to resonate with people both locally and globally. With this generous grant from the United States, the journey to preserve this iconic landmark takes a significant step forward, ensuring that the legacy of Old Fourah Bay College lives on for generations to come.