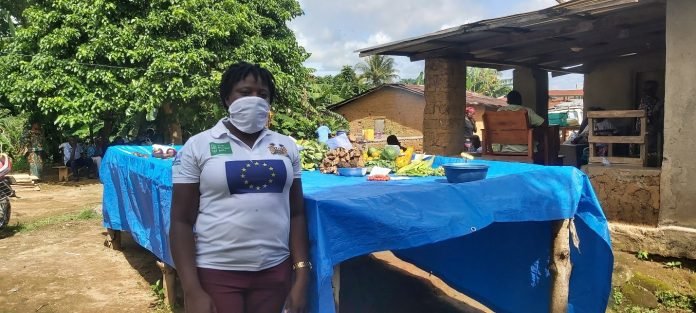 By Tamba Borbor
Public Relations Officer
Welthungerhilfe Improved Waste Management Project
Koidu City
The Pro-Resilience Action (ProAct 2015) Project, currently implemented by Welthungerhilfe (WHH) in partnership with COOPI and InterAide has on Sunday 7th June 2020 observed World Food Safety Day in Tongoro village in the Tankoro Chiefdom, Kono District.
Under the framework of  its Linking Agriculture, Natural Resources Management towards Nutrition Security (LANN+) Project, this year's celebration with the theme: "Food Security is everyone's business", saw WHH engage the Tongoro LANN+ community on how to  prepare safe and hygienic food in a sanitary environment.
Head of Project of Welthungerhilfe ProAct 2015 project- Derek Makokha, explained that the essence of the celebration is to increase awareness in the people about observing "proper hygiene from the moment of sourcing the food at the farmgate to the plate."
The Senior Manager of LANN+ project, Hawa Bockarie stated that the Day is about improving the nutritional knowledge, hygiene, and sanitation of the targeted households.
"In Covid-19 context, us celebrating this World Food Safety Day here in Tongoro village is about ensuring the people are taught how to prepare safe food through our cooking demonstrations. We are ensuring the people do not eat contaminated food that would harm their health," she explained; adding that LANN is a participatory training approach geared towards improving the lives of households through nutrition education, hygiene and sanitation in addressing existing challenges.
The Town Chief of Tongoro village, Sahr Yarjah who prepared various condiments to cook for his household during the Day, noted that the celebration is important to highlight that men should help their wives in the kitchen in preparing safe food.
"It is good to eat a balanced diet to ensure a healthy living. Let us be reminded that food hygiene is key in maintaining one's wellbeing," the Town Chief said.
According to the World Health Organization (WHO), Food Safety is a public Health issue as every year 420,000 people die of contaminated foods which includes 125,000 children under five years.
Consequently, this year's celebration is a call to action for Governments to afford safe and nutritious food to all; ensure agriculture and food producers must adopt good practices to make certain food is grown safe; all consumers have the right to safe, healthy and nutritious food and that food safety is a shared responsibility which requires teamwork.
The celebration of World Food Day in Tongoro village also saw WHH ProAct 2015 project distribute cartoons of soap to 83 households to support regular handwashing in preventing the novel coronavirus while sensitizing them on the symptoms.
ProAct 2015 is funded by the European Union (EUC)