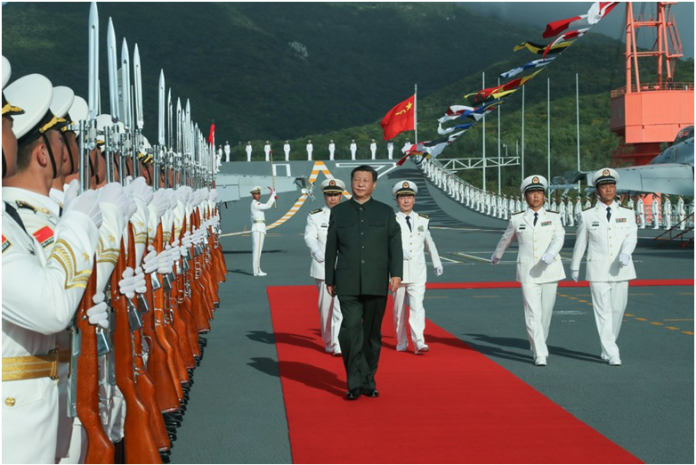 By  Mr. Alpha Mohamed Jalloh
Director: China Africa Institute, University of Makeni
Few political parties worldwide could boast of such a long history and uninterrupted period of state governance. The Communist Party of China (CPC) has been China's ruling party for 73 years. Presently, Xi is the core of the CPC leadership. Before him, generations of central collective leadership had spanned the decades with Mao Zedong, Deng Xiaoping, Jiang Zemin, and Hu Jintao as chief representatives.
Since being elected General Secretary of the CPC Central Committee in November 2012, Xi has been seen as a man of determination and action, a man of profound thoughts and feelings, a man who inherited a legacy but dares to innovate, and a man who has forward-looking vision and is committed to working tirelessly.
Under his leadership, China is becoming a powerful country, and is now entering an era of strength.
On the new journey, Xi is undoubtedly the core figure in charting the course of history. How will he lead the Party in the face of opportunities and challenges? How will he bring China back to the world's center stage? Today, the world is watching Xi just closely as they did when he took office 10 years ago.
The year 2022 is the tenth year of Xi's signature anti-corruption campaign, the most extensive in Chinese history. It shows no signs of letting up.
More than 20 high-level officials and executives in the financial sector have been punished or investigated last year. When Xi was elected General Secretary of the CPC Central Committee, China was already the world's second-largest economy. Yet, it faced challenges from within.
Facts prove that if corruption is allowed to spread, it will eventually lead to the destruction of a party and the fall of a government.
As General Secretary of the CPC Central Committee, Xi has led efforts to formulate and revise around 200 intra-party regulations. He also launched five Party-wide education campaigns to firm up the ideals and convictions of Party members and ensure they act effectively and in unison.
Xi also attaches great importance to intra-party democracy. Solicited comments from CPC members are now incorporated into all Party national congress reports, documents reviewed at plenary sessions, and major Party documents, decisions, and reform policies.
Xi Jinping is enjoying greater support within the CPC now than ever.
Without a strong leadership core, the CPC would find it hard to unify the entire Party's will or build solidarity and unity among people of all ethnic groups. It would not be able to achieve anything or carry out any of its "great struggles with many new historical features," said Wang Junwei, a research fellow at the Institute of Party History and Literature of the CPC Central Committee.
In October 2017, Xi Jinping Thought on Socialism with Chinese Characteristics for a New Era was officially instituted at the 19th CPC National Congress. The thought was enshrined in the CPC Constitution and China's Constitution.
Like Mao Zedong and Deng Xiaoping, Xi has advanced the adaption of Marxism to the Chinese context and kept it relevant.
Xi believes that rejuvenation requires both strategic design and hard work. He took the lead by being a man of action. In 2019 alone, he took part in more than 500 important events. His working itinerary covered weekends of about 30 weeks in that year. He revised each draft of major reform plans.
When Xi took office as general secretary of the CPC Central Committee, China's strength had significantly risen after more than 30 years of reform and opening up. Yet, it was not without problems, including downward pressure on the economy, wealth disparities, environmental damage, and social tension. Reforms also encountered some resistance. A more scientific top-level approach was needed.
Xi designed a Chinese model of modernization characterized by an innovative, coordinated, green, and open development path that is for everyone.
Xi has been at the forefront of China's efforts to engage with and contribute to the global community.
Before the COVID-19 pandemic broke out, he had visited 69 countries in 41 tours and been the first Chinese head of state to attend the World Economic Forum in Davos. He has said that, while spending so much time on overseas visits might be deemed a "luxury," he sees it as "worthwhile."
"Everything we Chinese communists do is to better the lives of the Chinese people, renew the Chinese nation, and promote peace and development for humanity," Xi said.
The world is too big, with too many challenges, to go without the voice from China being heard, without solution ideas from China being shared, without the involvement of China being needed.
A community with a shared future for humanity comes from an excellent pedigree. Political scientists have noted that the notion inherits the Marxist idea of "an association in which the free development of each is the condition for the free development of all," and the Chinese ideal of "harmony." It is the most recent proposition on foreign affairs floated by the CPC, following Mao Zedong's "Three Worlds Theory" and Deng Xiaoping's "peace and development as two main world themes."
President Xi has proposed a new approach to international relations based on mutually beneficial cooperation and the principle of achieving shared growth through discussion and collaboration in global governance. The kind of international order and governance system best suits the world and best suits the people of all countries. This is something that should be decided by all countries through consultation, and not by a single country or a few countries.
The same year that Xi first called on the world to jointly build a community with a shared future for humanity, he also proposed the Belt and Road Initiative (BRI). By August 2021, about 172 countries and international organizations had signed more than 200 cooperation documents with China under this framework. According to a report from the World Bank, BRI projects could help lift 7.6 million people out of extreme poverty and 32 million people out of moderate poverty globally.
Xi has described the CPC's past century as "a historic miracle" and expressed confidence that the rejuvenation of the Chinese nation is dawning. However, he also warned that this is no time for indecision. At this critical moment, they must not stop, hesitate or wait.
Last year marked the 100thAnniversary of the Founding of CPC. Over the past 100 years, the CPC has adopted just two resolutions related to historical issues, in 1945 and 1981. They analyzed the causes and drew conclusions on important historical events and figures, through which the whole Party came to a clear consensus and thus grew stronger in unity.
History has emerged as something of a buzzword for all CPC members during 2021. A sweeping education campaign helped cadres recognize the Party's history, and a new Museum of the CPC was inaugurated.
Xi once quoted Mao Zedong, saying that "after several decades, the victory of the Chinese people's democratic revolution, viewed in retrospect, will seem like only a brief prologue to a long drama. A drama begins with a prologue, but the prologue is not the climax."
History has not ended, nor can it possibly end, The CPC and Chinese people have every confidence in their ability to provide a Chinese solution to aid the exploration of a better social system for humanity.