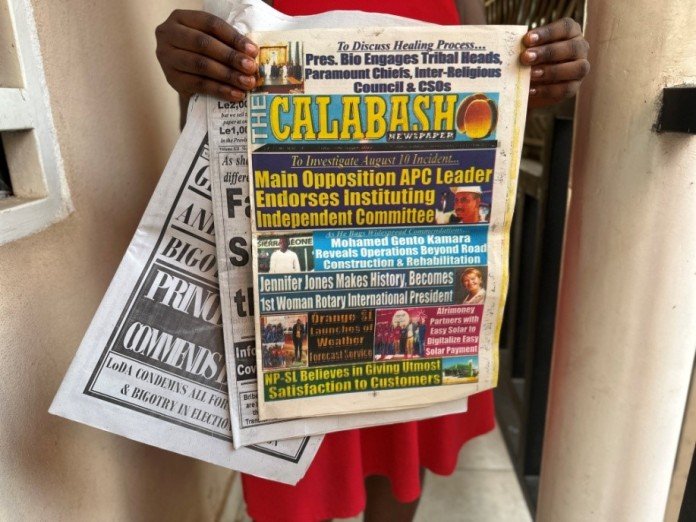 By Amin Kef (Ranger)
The Calabash Newspaper was named among other media entities by the BBC Monitoring Press as one of the most trusted media sources of credible news related to Sierra Leone.
According to an independent assessment, Media freedom in Sierra Leone has its limits as media rights monitors say high-level corruption is a taboo topic.
It was stated by Reporters Without Borders (RSF) that despite a genuinely diverse media landscape "journalists are sometimes targets of arbitrary arrest and detention". It notes that the main threat comes from "politicians who often use the police to try to control reporters or hinder their work".
Also underscored was that challenges facing broadcasters include unreliable power supplies, poor funding and low advertising revenues.
There were also dozens of radio stations named, most of them privately owned.
The Sierra Leone Broadcasting Corporation (SLBC) is the national state-owned broadcaster.BBC World Service is on FM in Freetown (94.3), Bo (94.5) and Kenema (95.3). Voice of America and Radio France Internationale broadcast on FM in Freetown.
Dozens of newspapers were said to be published in Freetown, despite low literacy levels and most of them are privately-run and are often critical of the Government.
According to Reporters Without Borders Poverty, irregular power supplies and illiteracy act as curbs on internet access as by December 2021 there were 1.04 million internet users comprising just 12% of the population (Internetworldstats.com).
The Calabash came fourth after Awoko, Concord Times and Standard Times.
Other media entities listed were The Sierra Leone Telegraph for print media and for the electronic media there were the Sierra Leone Broadcasting Corporation (SLBC) – state-owned terrestrial network with limited coverage, Sierra Leone Broadcasting Corporation (SLBC) – state-owned national broadcaster (Radio),Radio Democracy in Freetown, Kiss FM in  Bo, Skyy Radio in  Freetown, Capital Radio ,a private station in Freetown and Voice of the Handicapped in  Freetown