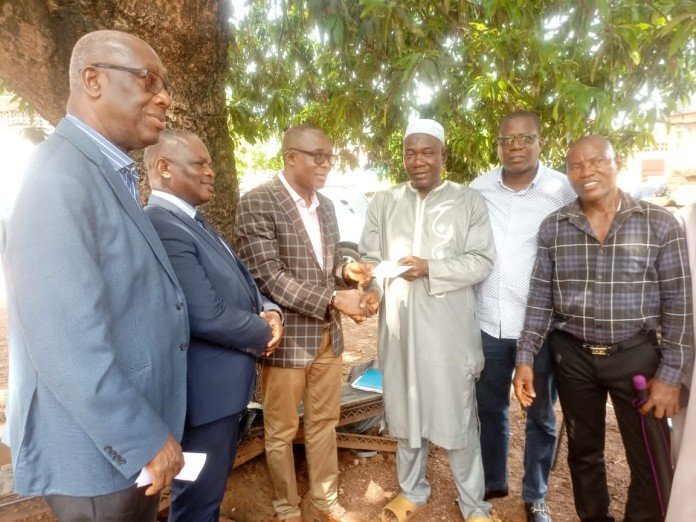 By Abubakarr Harding
On Tuesday, May 30, 2023, in a commendable act of generosity, the Freemasonry Grand Lodge made a substantial donation of 21 thousand new Leones to the Resident Imam of Jamiu Sheriff Mosque, commonly known as Mende Central Mosque for the much-needed rehabilitation of the religious site.
Emile Moses Charles Carr, the District Grand Master of District Grand Lodge Sierra Leone and The Gambia, under the United Grand Lodge of England, expressed his organization's commitment to charitable initiatives and shed light on the history and global presence of the Freemasonry Lodge.
He added that the Freemasonry Grand Lodge was founded more than three centuries ago and has a rich legacy spanning 300 years. Carr explained that the organization's headquarters is based in England, with lodges established worldwide. He emphasized the unity among English, Scottish and Irish Freemasons, operating under their respective constitutions, while remaining united in their charitable pursuits.
Carr further revealed that the decision to donate 21 Thousand New Leones( Twenty-One Million Leones in Old Notes) was prompted by a member of the lodge who had heard an appeal for assistance during an Islamic program on Friday.
He continued to narrate how one of the local Imams had expressed the urgent need to rehabilitate the mosque and recognizing charity as one of their core values and acknowledging the importance of helping their neighbors, the Freemasonry Grand Lodge promptly decided to extend a helping hand.
He affirmed the organization's unwavering commitment to assisting those in need and encouraged others in positions of influence and privilege to do the same. He emphasized that in times of adversity or prosperity, it is one's neighbors who will be the first to experience the impact.
The Resident Imam of Jamiu Sheriff Mosques, Sheikh Sulaiman A.R Kpukumu, expressed heartfelt gratitude and appreciation on behalf of the mosque for the generous donation from the Freemasonry Lodge. He highlighted the deteriorating condition of the mosque during the rainy season, with leakage becoming a challenging issue and the prayer mats deteriorating rapidly.
Sheikh Kpukumu revealed that due to the dire state of the mosque he had taken to the airwaves appealing for help to rehabilitate the religious site adding that with the Freemasonry Grand Lodge stepping forward to offer their support, the rehabilitation efforts can now commence without delay.
He concluded by stating that the charitable contribution made by the Freemasonry Grand Lodge exemplifies their commitment to improving the lives of others and fostering community well-being.
The partnership between the Freemasonry fraternity and the Jamiu Sheriff Mosque serves as a reminder of the importance of compassion, unity and the collective responsibility to lend a helping hand to our neighbors in times of need.