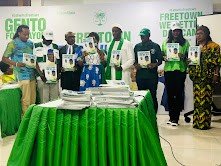 By Amin Kef (Ranger)
The SLPP endorsed Mayoral aspirant of the Freetown City Council (FCC) , Mohamed Gento Kamara on the 3rd June, 2023 launched his Manifesto ,"Freetown For We All", during an auspicious event held at the Conference Hall of the HUB Hotel at Wilberforce in the West End of Freetown and which was chaired by the former SLPP Member of Parliament, Hon. Tawa Conteh.
Present during the launch were his running mate, Rev Samuel Babatunde Thomas,  the Secretary General of the SLPP, Napoleon Koroma, Minister of Basic Education, Dr Moinina Sengeh, Adviser to President Julius Maada Bio, Ambassador Dr. Kona Koroma, Hon. Manso Dumbuya, Tuma Adama Gento Kamara, wife of Mohamed Gento Kamara, Gento's mother, Hon Melrose Karminty, supporters and members of the Fourth Estate.
Setting the scene before the official launch, the Secretary General of SLPP, who is also the Deputy Minister of Justice, Napoleon Koroma intimated the rapt audience that in less than a month the country will go to the polls in multi tier elections. He said the individual that the party endorsed to contest for the FCC Mayoral position is Mohamed Gento Kamara.
The Secretary General furthered how it was not a mistake that the party did more especially as they know the pedigree of their aspiring candidate adding that the passion that has been exhibited by their candidate to transform Freetown speaks volumes about the plans he has mapped out to translate that into reality which he has encapsulated in his manifesto.
He underscored that the party has no doubt  that when Gento would have been elected as Mayor those plans will be implemented to positively impact lives and communities as well as usher in sustainable and meaningful changes that will bring Freetown up to speed in terms of modernization and availability of basic social amenities.
After the presentation of the Campaign Website by one David Manley, Madam Tuma Adama Gento Kamara introduced the keynote Speaker whom he said was born and bred in the East End of Freetown before going overseas where he pursued tertiary education.
She said Mohamed Gento Kamara is a Sierra Leonean entrepreneur, community organizer and politician who is the founder and owner of the Gento Group of Companies, a road construction firm with assets worth over $150 million.
According to her, he is also a prominent philanthropist, and has provided regular support and sponsorship to several charities and non-governmental initiatives.
She mentioned how her husband is also revered for his generosity and commitment to his community and his people who has donated millions of dollars to various charities and non-governmental initiatives in Sierra Leone.
"Gento's philanthropy has helped to improve the lives of thousands of Sierra Leoneans and has made a significant impact on especially the lives of poor people across the country," she disclosed continuing that in addition to his business and philanthropic work, Gento is also politician who is a member of the Sierra Leone People's Party, and is running for Mayor of Freetown in the upcoming election.
According to her, Gento is passionate about serving his community and believes that he can make a difference in the lives of the people of Freetown.
She told the audience that Gento is a strong leader with a proven track record of success with  experience,  skills, and the vision to fix the problems of Freetown and lead Freetown into a brighter future.
She noted that her husband, Gento, is a grassroots man who is very passionate about helping the poor and needy and he has all what it takes to institute meaningful changes within the Freetown Metropolis ending by calling or appealing to all to give him the necessary support and by voting for him on the 24th June,2023.
In his keynote address, Mohamed Gento Kamara expressed gratitude to all those who took time out of busy schedules to grace the manifesto launching. He said it is emotionally touching to see Freetown, a capital city, in such a rundown state, lacking in vital basic amenities.
He told the audience how he is committed to fixing this city so that it works for all adding that his focus will be on providing clean water, sanitation services, and public spaces.
"We will enhance access to public services in a manner which appreciates the self-worth of all citizens," he promised furthering how he will purposefully include those who have traditionally been marginalized and forgotten by society.
He said by cleaning the mess and creating order throughout the city such will enable everyone to rise and live in dignity, from East End to Aberdeen, from the Kekeh riders to the market sellers to the footballers to the fishermen to the tailors to the artists to the business executives.
Gento told all present that his Manifesto is simple , " Let's Fix Freetown and Create a Freetown for We All". He said as Mayor he will be committed to fixing the city so that it works for all maintaining that his focus will be on providing clean water, sanitation services, job creation and public spaces including dignified health centres, marketplaces, and recreational facilities for all.
According to him,his administration will enhance access to public services in a manner which appreciates the self worth of all citizens saying he will purposely include those who have traditionally been marginalized and forgotten by society.
With regards sanitation, he said  his administration will bring back Sanitary Inspectors, identify garbage collection points , move the dumpsites from their current locations in the city to convenient sites. Gento stated that the garbage would be used to generate energy which could be used for other productive purposes.
He added that most of the markets in Freetown are not conducive and against that backdrop his administration will embark on rebuilding standard markets with all the basic amenities provided.
Gento informed the audience that part of his Manifesto has to do with providing job opportunities adding that in other situations micro credit will be made available and access to finance from Banks saying from time to time they will be having meetings with traders to know their strengths and weaknesses.
The Mayoral Aspirant said that he will be able to accomplish that through a Municipal Bond highlighting that he has a project in mind which he intends to implement that will employ up to about 15,000 individuals as well as provide the central Government with Five Hundred Million Dollars annually.
He disclosed another plan of collaborating with the Ministry of Health and Sanitation to jointly manage public hospitals maintaining that by so doing most of the challenges within the sector would be overcome. Gento said by doing this health care will be greatly improved and made accessible.
Gento stated that translating all the aforementioned plans into reality is not as easy as it is been said stressing that he alone cannot achieve them as doing so needs collective action underscoring that with the total support and cooperation of Freetonians his fantastic plans will see the solid transformation of Freetown to become one of the best cities in the West African sub-region.
Other speakers made salient contributions.