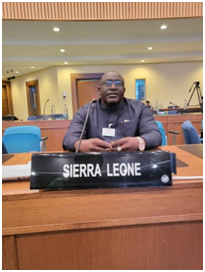 By Amin Kef (Ranger)
During a parallel session at the Expert Group Meeting of the Sixth Conference of African Ministers Responsible for Civil Registration, which was organized by the United Nations Economic Commission for Africa (UNECA) and the African Union Commission (AUC) in Addis Ababa, Ethiopia with the theme: "Building Integrated Civil Registration and Vital Statistics and Digital Identity Systems'', a Panel Session was held on the 25th October 2022 chaired by Sierra Leone's Director General of the  National Civil Registration Authority (NCRA), Mohamed M. Massaquoi.
The Director General first thanked the organizers, UNECA & AUC, for selecting Sierra Leone to Chair the session on Building Integrated CRVS and Digital Identity Systems with Experts drawn from various African countries, Donor Partners, UN Agencies and other International Organizations.
He underscored that it is by no means an error on their part as the Government of Sierra Leone is actively committed to having an integrated CRVS and Identity Management System and has taken bold steps to digitize the integrated system.
The Director General told the audience that  Sierra Leone, is among the few in Africa that have gained some experience in integrating CRVS with Identity System into a one system.
He continued that as was heard from the Panelists in the past two days, many countries still have separate CRVS and Identity Systems, mostly headed by separate Government institutions.
Mohamed M. Massaquoi revealed that since 2016, the Government of Sierra Leone, following a Policy on Civil Registration Reform mandating all previously fragmented registration of vital events (Births, Deaths, Causes of Deaths, Marriages, Divorces, Adoptions, Nullities etc into one entity, which is the NCRA, a law on CRVS and Identity Management integration was passed in June 2016.
He continued how the 2016 National Civil Registration Act established the NCRA as the institution responsible for the management and coordination of all Civil Registration, Vital Statistics and National Identity Systems which, he stressed, is very much consistent with the UN Guidelines and International best practice with the APAI CRVS recommending integrating and digitizing the system.
He expressed the view that there are, however, pros and cons to both integration and digitizing CRVS, particularly in resource-challenged nations where internet and power are not readily available and remote rural communities cannot be easily reached with digitization which will further exacerbate the not deliberate marginalization of such populations.
The Director General pointed out that integration of systems that have hitherto been managed by other Government Agencies may not be automatic despite the legal framework maintaining that a transitioning phase is crucial, especially where Civil Registration has revenue generation aspects.
According to him, seeming territorial protection and duplicated mandates can become a bottleneck if not managed well.
He informed that in the case of Sierra Leone, the country's march towards fully realizing the desired integration remain on track since 2016 as per the intention of the legal framework for integration.
"As it is now, all Government Agencies require the National Identification Number (NIN) assigned to Registrants who are enrolled into the integrated CRVS and Identity Management  System for service delivery including enlistment into Social Security Scheme, Vehicle Registration and Licenses, Immigration Services, enrolment into Public and Civil Service as well as placement into the Centralized Government Payroll System, Business Registration, Tax Administration, SIM Card Registration, Land and Property Registration, Enrolment into Academic Institutions, e-KYC for Financial Institutions and Credit Reference Checks to enhance financial inclusion, Extraction and Update of Voter Register from the Civil Register among many others," he stated.
The NCRA Director General said in fact since 2018, Voter Register is Extracted and updated from the Civil Register in Sierra Leone.
According to him, such is all due to the dedicated political commitment at the highest level, the Presidency, towards CRVS and ID Management backed by the strong legal framework coupled with sustained stakeholder engagement and respect for diversity.
He pointed out that the confidence in the system as the only source for verifying the identities of citizens and residents has grown over the years to where Foreign Missions now verify the identities of candidates for immigration opportunities with our IDMS.
Mohamed M. Massaquoi told delegates that as the second APAI CRVS Strategy and Action Plan (2017-2021) has come to a close, to embark on the programmes for the next phase of 2022- 2030 it is imperative that the lessons learnt by States like Sierra Leone that have integrated or those that have attempted integration of CRVS and Digital Identity, be recognized and incorporated for more realistic and achievable goals.
He said we are all aware of the toll COVID-19 has placed on CRVS and Identity Systems some of which were discussed in the previous day's sessions.
According to him, from the COVID 19 experience, it is worthy to note that CRVS and Identity Systems are more resilient in places where the systems were entirely digital as opposed to manual or partly.
He suggested that as they become more sensitive to the possibilities of future public health pandemics, States without Digital Identity /CRVS Systems need to be supported to go digital, at least partially.
The Director General pointed out that he said so partially as hybrid systems have also proven to be as efficient in some countries.
He expressed the view that maintaining manual registration in remote and poorly resourced communities while going digital where facilities are available yet ensuring that both manual and digital achieve the same end of Civil Registration of the population.
He also mentioned Interoperability/multi-sectoral linkages as key adding how just 2 weeks ago, he had the opportunity to be present at a Panel discussion in Rwanda where he emphasized that with the advancement of technology in such a connected digital world, Data Sovereignty in terms of physical storage/control should not be a problem recommending that countries and Regulators should focus on INTEROPERABILITY backed by appropriate legislations.
The NCRA Boss stated that with digital systems, interoperability is possible and reliable. He said linkages with the Health, Education, Statistics, Electoral and other Public/Governance Information and Data Management Systems will not only add value to the quality of data produced but will also increase its utility by a wide range of stakeholders.
He said it should, however, be noted that data protection legal frameworks and regulatory frameworks are essential to protect Data Subjects from misuse, undue transfer and commercialization of personal data of Registrants and security concerns by Data Users.
"In Sierra Leone, we have a draft Data Protection Bill at Parliament for enactment," he disclosed adding that the Government pays strong attention to the privacy, confidentiality and security of data in the midst of assuring Interoperability.
Mohamed M Massaquoi stated that at COM 5 three years ago, proposals were put forward for innovative ways of modernizing and harmonizing digital systems were discussed.
He then asked: How far have countries come towards achieving them? How have countries fared with regards national prioritization and increased cooperation from the Donor community for resources towards Digital CRVS and Identity Systems? The Director General stated that it is expected that the Panelists will share with all some of their best practices and challenges.
The NCRA Boss said in Sierra Leone, citizens are grateful for the support received from UNICEF, UNDP, Irish Aid and the EU in supporting the GoSL to integrate the CRVS and Identity system and digitization process undergoing currently.
"Our Government's support (financial and otherwise) towards an integrated CRVS and ID System is constant, predictable and assuring," he informed adding that while it is noted that investment in the System can be huge but its value and reward  can be far greater and cost effective for many other cyclical and episodic events.
He added that it is imperative that even as many have emphasized South -South cooperation, the SDG 16.9 cannot be achieved without the support of the donor community.
Before ending his introduction, the Director General thanked the UN for choosing Sierra Leone as one of nine countries in the first set of pilot countries to pilot the UN Legal Identity Agenda.
He maintained that the Panel session will inform experts about the experiences of States with legal Reform, digital identity in forecasting and decentralization processes, and experiences in building integrated CRVS and Identity systems like there are in Sierra Leone.
The Director General ended up welcoming colleagues from Egypt, Tunisia, Mozambique, Botswana and Ethiopia to the podium.