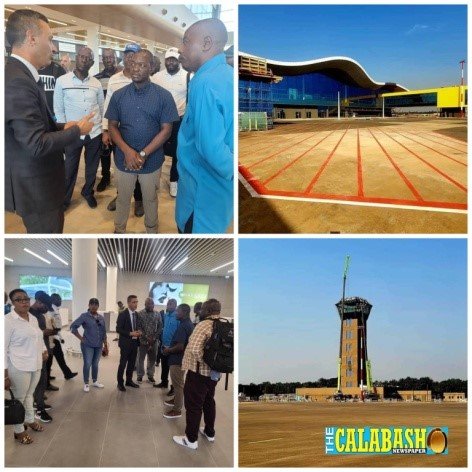 By Amin Kef (Ranger)
Senior Management of the National Revenue Authority (NRA) paid a spot visit to the New Lungi International Airport on the 14th January 2023.  The Commissioner General, Dr. Samuel S. Jibao, stated that the visit was to ascertain the adequacy of facilities for customs operations. He said he is very impressed with the facilities provided for customs, and the fact that the new Airport will meet all international standards required for customs operations.
The new Airport is fitted with facilities such as quay space, cranes, airfield ramp access, temporary storage sheds, customs offices, transport services, clearing and forwarding services, adequate security and cargo inspection facilities as specified in Section 7(4) of the Customs Act 2011, to enable customs handle volumes of trade and passenger traffic and the collection of the much needed revenue.
Some of the facilities provided by the New Airport include: Customs Offices – for outbound passengers- to enable customs witness scanning of baggage by Aviation Security to curb smuggling, Customs Offices – for inbound passengers to enable customs scan and inspect baggage,  assess declarations, conduct preliminary investigations, store intercepted goods and office for Customs Management, Customs Offices – for Air-freighted Cargo – Import which is located within the Cargo Terminal. It has scanners and x-ray facilities, Cold rooms/ storage facilities for refrigerated goods as well as Mortuary for Human Remains, Clearing and Forwarding Office – For customs Brokers in the Cargo Terminal also found within the cargo terminal.
According to the General Manager of the SUMMA Construction Company, the New Lungi International Airport will turnover a passenger volume of over 1.2 million passengers a year.
The new Lungi International Airport is set to be completed within the coming months.
In another NRA related event, the Anti-Smuggling Unit, Border Controls and Management within the Customs Department of the National Revenue Authority uncovered a massive illegal timber depot in the middle of nowhere in Katonga village, Port-Loko district.
According to the Assistant Commissioner of the Anti Smuggling Unit, Border Controls and Management, Richard Senessie, they've been getting reports of illegal timber export across various illegal crossing points between Sierra Leone and Guinea.
Richard Senessie said he cannot ascertain the volume of timber smuggling as his Unit has sanctioned investigations into the matter. Other security apparatuses have been alerted and investigations are underway.