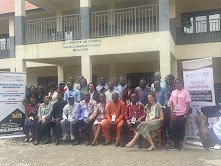 By Amin Kef (Ranger)       
The Sierra Leone Urban Research Centre (SLURC), in collaboration with the University of Lagos (UNILAG) and Centre for Housing and Sustainable Development and the ARUA COE for Urbanization and Habitable Cities held a Policy Engaged Research workshop for PhD students in Africa commencing on the 8th and ending on the 9th May, 2023 at the University of Makeni, Northern Sierra Leone.
The workshop targeted 30 PhD students from Ghana, Nigeria, South Africa, Zambia and UNIMAK in Sierra Leone with the theme: "Policy Engaged Research for PhD Students in Africa" which resonated with topical discussions related to how to effectively channel research activities in order to underpin policy processes.
Its targeted audience of PhD students was intentional towards ensuring that researchers grow with the capacity to carry out policy engaged research.
The objective of the workshop, therefore, was to strengthen the capacity of doctoral candidates in urban studies to anticipate, incorporate and integrate policy concerns into their thesis.
It was also geared towards promoting the deliberate uptake of PhD research by the policy sector thereby improving researchers' ability to solve 'actual' problems in global and uniquely African settings.
The PhD students were drawn from partner universities of the ARUA-UKRI-GCRF with their counterparts from the DAAD funded WITS-TUB- UNILAG Urban Lab CoE in Urbanization and Habitable Cities and other academics from the Centre for Housing and Sustainable Development, University of Lagos.
The Workshop sought an engagement by enabling answers to questions like: "Why bridge research evidence and policy?", "What are the challenges influencing PhD research uptake and how can PhD students enhance policy uptake of their work?", "How can policy engagement be initiated or enhanced throughout or at salient points in PhD research?", "What methodology drives policy engaged research and What are the considerations for engendering policy uptake?"
It was envisaged that at the end of the workshop, PhD students should be able to demonstrate enhanced capacity to create and strengthen the link between research and policy, from the inception of research to the dissemination of findings.
It must be noted that the African Research Universities Alliance (ARUA) is a network of sixteen (16) African universities spread across ten (10) African nations. These Universities share a common vision of making African researchers and their institutions globally competitive while contributing to the generation of knowledge for the socio-economic transformation of Africa.
The Centre for Excellence for Urbanization and Habitable Cities is a research hub for bringing together researchers from other African Countries to address the salient and often intractable problems associated with urbanization in African Cities, therefore impacting on spatial efficiencies, the well-being of urban dwellers and city sustainability.
It is coming under the designate of the existing University of Lagos Centre for Housing Studies   (UNILAGCHS) http://chsunilag.com/ which was established in December 2013 as a result of MOU between the University of Lagos, Nigerian-UK Housing Society (NUHS) and its partner, UK's Chartered Institute of Housing, England (CIH).
The Centre's core activities are in Housing research, urban regeneration and advocacy, Postgraduate education and capacity building for practitioners. Activities are centred around multi-disciplinary groups from academia and industry.
The Vision Statement of the Centre of Excellence in Urbanization and Habitable Cities is to be the hub for world class, interdisciplinary and multidisciplinary, applied research on urbanization and habitable cities; connecting researchers for the purpose of initiating, developing, disseminating and affecting change in Africa's cities.
Its Mission Statement is to attract, through collaborative actions; active researchers and funders, across all cadres, from within and outside Africa, that would work together with stakeholders from academia, private sector, Government and Non-Governmental organizations to solve the diverse problems evident in African cities.
The Centre of Excellence has been structured around seven thematic areas which are organized as research clusters to attract and sustain funding for active catalytic research.  Each Cluster is composed of work groups in relevant sub-thematic areas. In collaboration with ARUA Institution partners, the cluster will initiate, absorb and sustain strong platforms for the utilization of research outputs in research areas, while providing strategic opportunities for ensuring the growth of early career researchers, postgraduate students and undergraduate students across Africa.
Under the dynamic leadership of its Director, Professor Timothy Nubi and Deputy Director, Dr Taibat Lawanson with a core theme of experts, themselves experienced researchers and mentors well grounded in the integration of the principles of sustainable development in their key areas of expertise, the Centre of Excellence has tried to establish a high visibility for Africa's peculiar urbanization issues and offer profound, workable solutions for ensuring that Africa's urbanization leads to generative, habitable cities rather than dysfunctional cities.
As the clusters focus on specific research activities, they serve as platforms for partnering Universities and other members of the research communities.
The Clusters of the Centre of Excellence Research are: the Sustainable Cities and African Urbanization Dynamics Cluster, the Housing and Regeneration Cluster, the Urban Health and Livability Cluster, the Sustainable Urban Design and Infrastructure Cluster, the Land Management and Administration Cluster, the Sustainable Construction and Skill Development Cluster and the Pro-Poor Governance and Management in Africa Cluster.
Worthy of note is that the United Nations estimates that between 2015 and 2050, an additional 790 million people will reside in Africa's urban areas. This implies that the Continent will play host to over 12 cities with between 5 to 10 million people by 2030.
However, the institutional capacity to cope with the attendant need for basic infrastructure, housing and social facilities for residents is already under considerable strain. Such is evidenced by the relatively high percentage of African urban dwellers living in slum conditions-the UN Habitat projects that more than 50% of Africa's population are likely to live in slums by 2025.
On the other hand, addressing those urbanization issues will unleash vast opportunities that will propel and consolidate Africa's growth and development.
To achieve that, it is imperative that impactful, trans-disciplinary is carried out in the short term and that such research outcomes are tied into governance and policy frameworks to ensure implementation and impact. The Centre of Excellence tries to address those issues.
During the workshop, there was a standing ovation following a groundbreaking presentation by SLURC which is now the envy of all with many people expressing interest in their research and policy-engaged work in Freetown.
Indeed. SLURC is seen as a key resource for most of the answers they've been seeking, drawing particularly from their impressions of the institution's role in the ACRC and their readings on the City Learning Platform.