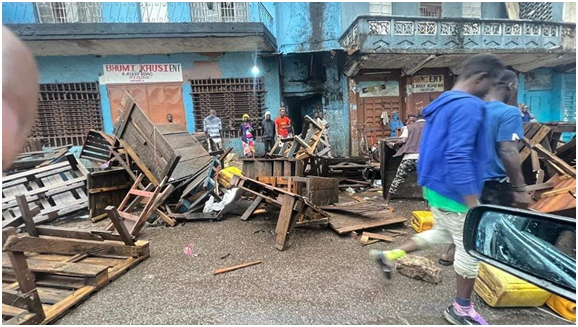 By Amin Kef (Ranger)
This medium was reliably informed on  Friday 12th August 2022, that market stalls on  Sani Abacha Street were demolished overnight with the objective of forestalling any future business activity taking place there henceforth ceasing to be one of the famous street markets in Freetown.
Some of the traders who turned up on that day to carry on their usual trading activities were seen, standing in groups, shell shocked not knowing what should be the next move as some of them were criticizing the action that was taken.
Meanwhile, the Mayor of Freetown City Council (FCC), Yvonne Aki-Sawyer has refuted Social Media claims of not participating in the demolition of market stalls at Sani Abacha Street in Freetown.
Mayor Aki-Sawyer in her tweet post denied that FCC is not responsible and didn't partake in any overnight operations during the curfew.
"Learnt, via photos on social media, that market stalls at Abacha Street Market were destroyed overnight and I have also seen posts that FCC is responsible. Would like to inform the general public that FCC is not responsible & did not participate in this night operation during curfew", she said.
Some have called on the FCC Mayor to use the opportunity in beautifying that part of the city. One of them is Bockarie Sama Banya, a popular social media user, who urged the Mayor to transform the city to a better position.
He made that call during a reply to the tweet of the Mayor: "May be you should use this opportunity to transform Freetown in deed and not just words. Under your watch street trading has quadrupled. Use this opportunity to make use of Sewa grounds and clean the city," he replied.
Others have argued that Abacha Street is a strong political base which any political party that wants victory in any public election must embrace.
However, there is a school of thought which holds the firm conviction that those who converge there most times do not actively participate in political activities claiming that since Freetown is a stronghold of the main opposition party it will make no positive difference if the SLPP led Government do not allow street trading to continue taking place there