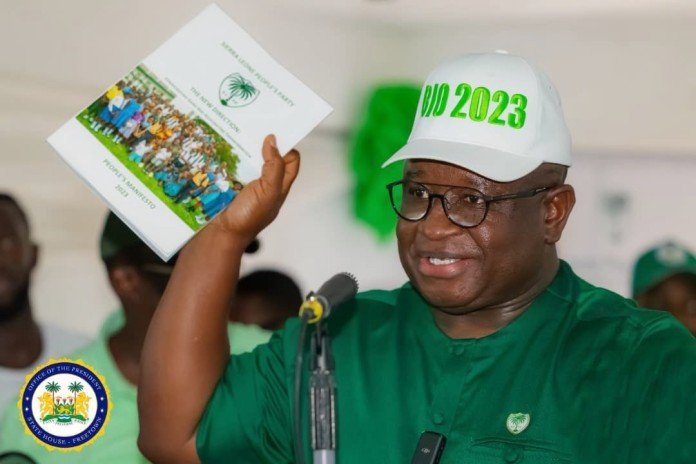 By James Samba
Part 1
Introduction:
As President Bio's first term draws to a close, it is imperative to delve into his remarkable achievements and critically evaluate whether he deserves a second term. The decisions and actions of a political leader to hold power to shape a nation's trajectory and President Bio's tenure has been nothing short of a transformative journey. His unwavering commitment to comprehensive reforms across multiple sectors has showcased his vision for a revitalized and prosperous Sierra Leone. Thus, whether he deserves a second term holds more weight than speculative murmurs from disheartened opposition figures. This article delves into President Bio's significant strides in various sectors, examining his case for a second term to consolidate these achievements and guide Sierra Leone steadfastly towards continued progress.
The People's Manifesto 2023
The People's Agenda 2023 represents a comprehensive and visionary approach to governance, aiming to continue propelling Sierra Leone towards progress and prosperity, with the Human Capital Development Initiative being the hallmark of a just-concluded successful tenure. The President's 2023 and Beyond vision is captioned in the one hundred and fifteen-page Manifesto, dubbed "The People's Manifesto 2023," launched on the 24th of May at the Eastern Technical University in Kenema. President Bio, in his address, stated that the Manifesto was crafted to advance the New Direction national development agenda, consolidating the progress achieved, and expediting the process of social and economic transformation, leading to a stronger and more prosperous Sierra Leone.
According to the President, the crux of the Manifesto was rooted in the principles of transformation and development; this Agenda encompasses a wide range of sectors and initiatives. President Bio's commitment to economic reform and diversification forms a vital pillar of the Agenda, as he seeks to create an enabling environment for businesses, promote transparency, and attract foreign investments.
The Manifesto also emphasizes education, improving access, quality, and relevance to equip Sierra Leone's youth with the skills needed for the future.
In the realm of healthcare, the People's Manifesto prioritizes accessible and quality healthcare services for all citizens, implementing initiatives to enhance healthcare infrastructure, improve medical supplies, and reduce the burden of healthcare costs.
Infrastructure development is another focal point; President Bio aims to continue enhancing connectivity, facilitating trade, and unlocking the nation's economic potential through projects such as road construction and rehabilitation and electricity generation, especially in rural areas. The Bio-Forward Agenda seeks to improve transportation networks and stimulate economic growth.
By embracing innovation and digital transformation, the Agenda also strives to position Sierra Leone as a leader in technology and harness its potential for socio-economic advancement. Overall, this Agenda reflects a holistic and forward-thinking approach to governance, aiming to uplift Sierra Leone and its people to new heights of progress and prosperity.
Big Five for Sierra Leone
In 2018, when the President decided to unleash the potential of Sierra Leone, he invested in its people, empowering them with education, training, and opportunities; we have now seen the significant progress that his government has made in that direction by reaping the benefits of a skilled workforce and vibrant society with profound impact on individuals, communities and the nation at large, especially in education. According to the 2021/2022 UNDP Human Development Report, Sierra Leone made a notable stride in the Human Capital Development Index, exhibiting a positive increase, despite the many global challenges. His dedication to improving access to quality education through the Free Quality Education Program (FQEP) and investments in teacher training and the overall education infrastructure highlights his commitment to human capital development.
Now, in 2023, as President Bio stands before the nation seeking support for a second term, he presents a compelling case for why he deserves to continue leading Sierra Leone. With solid foundations already established, President Bio's vision for the nation is encapsulated in "The Big Five," a set of five key priorities that demonstrate his commitment to sustaining the positive trajectory that the country is currently on:
FEED SALONE
President Bio has firmly committed to boosting agricultural productivity to ensure food security and foster inclusive economic growth throughout his tenure. His initiatives, such as the Smallholder Commercialization Program, Scaling Up Agriculture Program, and focus on value chain development, have aimed to transform the agricultural sector and empower farmers, improving livelihoods and contributing to national development. Additionally, President Bio has prioritized agrarian extension services and irrigation development, recognizing their importance in enhancing productivity and mitigating the effects of climate change. These initiatives demonstrate President Bio's dedication to transforming the agricultural sector, improving livelihoods, and promoting inclusive economic growth in Sierra Leone.
HUMAN CAPITAL DEVELOPMENT
President Bio's administration has recognised the importance of nurturing skills for the 21st-century industry. It has implemented various initiatives to bridge the skills gap and prepare the workforce for a rapidly evolving economy. Key examples include the Free Quality Education Program, which aims to provide every child with quality education, and the expansion of Technical and Vocational Education and Training (TVET) programs, which equip individuals with practical skills aligned with modern job market demands. The administration has also fostered partnerships with the private sector to develop industry-specific training programs and apprenticeships, promoted STEM education to cultivate critical thinking and technical abilities and supported entrepreneurship and innovation through training, mentorship, and funding opportunities. These proactive efforts equip individuals with the necessary skills and competencies to thrive in a changing economy, contributing to Sierra Leone's overall development and preparing the workforce for the opportunities and challenges of the 21st-century industry.
YOUTH EMPLOYMENT SCHEME (YES!)
His Youth Employment Scheme has been a transformative endeavour in Sierra Leone, aiming to combat youth unemployment and provide opportunities for the younger generation. With a target of creating 500,000 jobs in five years, President Bio's commitment to empowering youth and fostering national development is evident. Notable initiatives include the National Youth Service, which offers employment opportunities in infrastructure, agriculture, healthcare, and education, instilling valuable skills and a sense of national service.
The Youth Entrepreneurship and Innovation Fund supports young entrepreneurs with funding, training, mentorship, and market access, fostering sustainable job creation and economic growth. Skills development and training programs align youth with industry needs, while the Public Works Program engages them in infrastructure projects, improving essential amenities for local communities. Thanks to job matching platforms that use technology, young job seekers can now find employment opportunities that match their skills and interests.
These platforms serve as a bridge between employers and talent, ensuring both parties benefit from the partnership. HE Bio's Youth Employment Scheme demonstrates a proactive approach to addressing youth unemployment, empowering people to contribute to Sierra Leone's socio-economic development and shaping a brighter future for the nation.
REVAMPING THE PUBLIC SERVICE ARCHITECTURE
The initiative to revamp Sierra Leone's public service architecture has been a transformative endeavour to enhance service delivery, improve efficiency, and promote professionalism. Through comprehensive civil service reforms, the introduction of digital transformation initiatives, capacity building and training programs, ethics and anti-corruption measures, and service delivery improvements, President Bio is committed to creating a public service that is responsive, transparent, and capable of meeting citizens' needs. These efforts are crucial for building a government that is efficient, accountable, and focused on sustainable development, ultimately improving the quality of life for all Sierra Leoneans.
TECH AND INFRASTRUCTURE (TIPEG)
President Bio's initiative on technology and infrastructure in Sierra Leone has played a crucial role in paving the way for sustained economic growth. His administration has prioritized investments in ICT infrastructure, including broadband connectivity, digital hubs, and e-government services, fostering technological innovation and attracting investment. Promoting renewable energy sources such as solar, wind, and hydroelectric power contributes to energy security and stimulates economic growth. Ambitious transportation and infrastructure projects, including roads, bridges, airports, and seaports, enhance connectivity and attract investments in various sectors. Supporting digital innovation and entrepreneurship through technology incubators and funding programs fosters a vibrant start-up ecosystem and positions Sierra Leone as a hub for technological innovation.
The embrace of public-private partnerships accelerates infrastructure development, attracts foreign investment, and creates an enabling environment for sustained economic growth. President Bio's initiatives generate employment opportunities, enhance connectivity, and promote technological advancements, laying the foundation for a modern and resilient economy in Sierra Leone.
In an exclusive interview with the Minister of Planning and Economic Development, Dr Francis Kai-Kai, he affirmed that assessing President Bio's current development strides was crucial for voters to decide whether he deserves a second term.
"By thoroughly assessing President Bio's current development strides in key sectors such as the economy, education, healthcare, infrastructure, and governance, voters should gauge the extent to which he has delivered already on his promises and effectively addressed the challenges facing Sierra Leone,", says Dr Kai-Kai.
The Minister emphasized the importance of evaluating tangible outcomes and measuring the effectiveness of implemented reforms, considering factors such as sustainable economic growth, improved access to quality healthcare and education, infrastructure development, and commitment to good governance and anti-corruption efforts. Ultimately, he continued, voters should consider both the progress made and the potential for further action under President Bio's leadership in making their decision.
Still Undecided? A Bio-Vote is Imminent
As elections approach in Sierra Leone, citizens face a momentous decision in choosing their next leader. President Bio is a candidate with a track record of transformative initiatives and a vision for progress. His commitment to youth empowerment, public service reform, technological advancement, and anti-corruption measures make a compelling case for those still undecided. President Bio's initiatives include the Youth Employment Scheme, aimed at creating 500,000 jobs for the youth, and comprehensive civil service reforms to improve efficiency and professionalism. Investments in ICT infrastructure, renewable energy development, and transportation projects further enhance economic growth. President Bio establishes a foundation for sustainable development by prioritising stability and transparency while combating corruption. As Sierra Leonean voters weigh their options, a vote for President Bio becomes an imminent choice for progress and prosperity in the nation's future.
Synopsis of the author: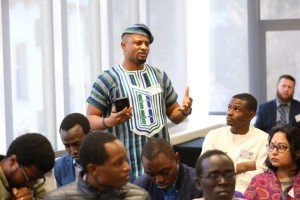 James is currently pursuing his Masters in Environmental Change and International Development at the prestigious University of Sheffield in the United Kingdom. In addition to his academic pursuits, James Samba had served as a valuable Graduate Teaching Assistant within the esteemed Graduate Teaching Engagement Team for the Department of Geography at Sheffield. Prior to embarking on his academic journey, James held the position of Technical Assistant to Dr Francis Kai-Kai, the Minister of Planning and Economic Development.