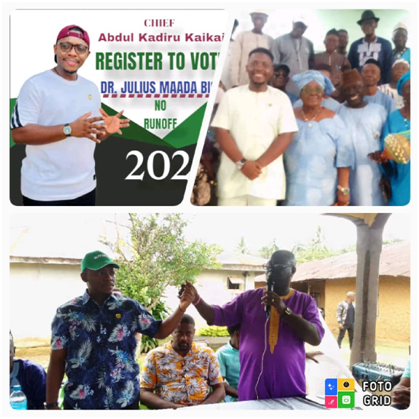 By Alim Jalloh
In his efforts to continue to sensitize major stakeholders right across the country about the importance of taking part in the ongoing voters registration exercise, which is been conducted by the Elections Commission for Sierra Leone (ECSL) and as part of his strides in supporting President Bio's 2023 second term bid in the country, the Grand Chief Patron of the Sierra Leone People's Party (SLPP), Business tycoon and Philanthropist, Abdul Kadiru Kaikai, while addressing residents of the district at Futa Village, Pejeh Chiefdom, Pujehun District, on Sunday 18th September 2022, said he wants to learn from His Excellency, President Julius Maada Bio's patriotism and good leadership style.
Chanting, "Maada Bio, Maada Bioooo", which was rapturously responded to by the residents, Abdul Kadiru Kaikai stated that he was in Pujehun for three reasons, one for his love for Sierra Leone, two; his Love for the Sierra Leone People's Party and the third being the re-election of President Bio in 2023 with no runoff.
He encouraged the people to turn out in large numbers to register maintaining that it is their fundamental right as enshrined in the country's Constitution and more especially to ensure that they vote for President Bio in order for him to get a second term in office to continue to work in the interest of the people of this nation.
Chief Kadiru, as he is fondly called, furthered that President Bio inherited a nation  from the erstwhile All People's Congress (APC) Government with a battered image further intimating that the President's frequent travelling overseas was geared towards laundering the country's image in the international arena, an endeavour , which he informed, has been mainly successful so far.
"Leaders and organizations all over the world are inviting President Bio which is something that will not happen if he was a foolish leader," he told the huge crowd he was addressing reiterating how the International Community admires the President so much.
Chief Kadiru explained to residents that President Bio hails from a humble chieftaincy background and attended the great Bo Government Secondary School, before joining the military in his early 20's and fought for this nation.
He continued that as Military Leader in 1996 President Bio handed over power to a civilian Government and in 2005 contested for the SLPP Leadership, furthering that in 2018, he became the President of Sierra Leone.
According to him, all the aforementioned stages in the President's life speak volumes of the good leadership qualities in him and his humble personality. Kadiru maintained that it is those leadership qualities that he is emulating.
He concluded by pledging financial and logistical supports to the chiefdom.
Paramount Chief Sheku A. Koroma applauded Kadiru Kaikai for the concern and respect he has accorded to Paramount Chiefs and stakeholders nationwide. The PC, however, highlighted the challenges faced during the ongoing voter registration process and called on Kadiru to continue to support them.
John H Freeman, the Youth Chairman of Pejen Chiefdom, pointed out that the Chiefdom is underdeveloped, adding that they only rely on small scale farming for survival. He made an appeal to Kadiru Kaikai to help them by empowering the youth and women.
It could be recalled that a similar engagement by Kadiru Kaikai was done in the Eastern Province in the recent past and will continue in the North next weekend.